Guest Post: Erin from LaTortugaViajera.com
The lovely Erin from La Tortuga Viajera is providing today's post. A fellow American expat in Spain, she lives in Madrid where she blogs about her adventures in Spain, and most recently her travels around exotic locales like Georgia (the country, not the state!), and Turkey. Today she's sharing her knowledge of madrileño cuisine—and just a fair warning, don't read this on an empty stomach! :)
Chilled gazpacho in the south, gourmet pinchos in the north, and crusty saffron-spiked paella in the west – Spain's regions pop out local cuisine like Chicago does pizza. But what about Madrid?
Little is said of the capital's famous dishes – partially because the city sits at the crossroads for national culture and cuisine, making it a melting pot of dishes. But also because, relatively speaking, the country's largest city is actually quite young.  As a result, popular platos from the past are far and few between.
Since I'm professional Spanish food eater (because I said so), I've narrowed down some of my favorite dishes so that you can get a proper taste of Madrid when passing through.
Cocido
Translated literally as "boiled", the garbanzo-bean-filled stew is a favorite on cold winter days and the perfect cure for the common, and very likely, Spanish hangover. While cocido versions can be found throughout the country, the Madrid version is perhaps the most versatile. The simple broth obtains its flavors from a mixture of vegetables, stock, meat, sausage and of course garbanzo beans.
Typically, once the stew is complete, the broth is strained then served first with tiny noodles (not unlike chicken noodle soup – minus the chicken), and followed by a plateful of the cooked beans, veggies and meat. 


To try the most traditional and admired of cocidos madrileños, stop by La Bola (Calle de la Bola 5), where the stew is brewed in clay pots over a fire stove.
Patatas bravas
Image: Creative Commons License via Flickr
While this dish can be found throughout the nation, the tourist favorite probably feels most at home in the Spanish capital. Regional versions vary, but in Madrid expect to be served a mountain of chopped and fried potatoes doused with a spicy tomato sauce (and sometimes even mayonnaise). You can indulge in your craving for the famous Spanish dish at tapas bars throughout the city.
Bocadillo de calamares
Sometimes you just need a sandwich filled with fried calamari. What's that - you haven't had the craving before? Then you haven't tried one of Madrid's most famous foods. These aren't your popcorn-style mystery munchies from back home, but instead ultra-tender, slightly breaded rings that will make you forget everything you thought you knew about calamari. Served warmed on a baguette of bread and often with a side of lemon, the Spanish sandwich redefines finger-licking good.
Hit up Bar Postas (Calle Postas, 13) to try the traditional treat. At only a couple euros a pop, it's at least worth a taste.
Huevos rotos
Image: Creative Commons License via Flickr

It should be no surprise that the city that never sleeps (and yes, I think Spain could probably give New York a run for their dinero on this one), has yet another hangover-worthy dish – huevos rotos. Served as a greasy mess of french fries topped with a fried egg and often jamón, the dish isn't for the bashful eater. To live up to its name - translated as "broken eggs" – one must mix up all the ingredients so that the runny egg and crispy fries become one big unrecognizable mush. Sounds appetizing, right?
To get this mouth-watering dish (work with me here), head to La Taberna de los Huevos de Lucio in La Latina (Calle Cava Baja, 30).
Churros con chocolate
Really, if you leave Madrid without giving churros a go, then you haven't lived. While the doughy sticks have a similar scalloped shape as those back in the States, their similarities end there. Churros served in the Spanish capital tend to be sugar free (or at most, with just a sprinkle) and loop-shaped. Accompanying the doughy drops are cups of thick hot chocolate with the consistency of a creamy soup. Don't be fooled though – this chocolaty mixture, while definitely sweet, doesn't pack the sugary punch that you might expect.
You can find the breakfast treat year-round in churrerías and in many cafeterías. During wintertime, don't even be surprised to see popup churro vans ready to take care of your sweet tooth.
Madrid indeed offers up other dishes as well – in fact, I would be remiss if I didn't mention callos (tripe…that's right - stomach). But I, uh, umm, haven't had time to try that one, so you know, give it a try and let me know what you think, OK?
(All pictures copyright of Erin unless otherwise noted.)

————————————————————-
I'm guest-posting over at Erin's blog today as well about delicious Andalusian cuisine. Come check it out!

blog comments powered by

Disqus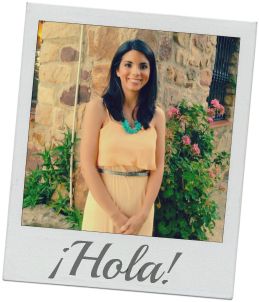 I'm Christine - a 25 year old American expat living la vida Española on the Mediterranean coast in Spain!