24.
Today, yours truly hits the quarter-of-a-century-old mark. As I'm celebrating turning 25 in San Francisco, I wanted to share my reflections on what the past 24 years of my life have taught me—lessons I've learned, and am sometimes revisiting and reminding myself of.  
You are responsible for your own happiness. Fight for it.
Never take the good people in your life or your blessings for granted. Thank God for them before you fall asleep each night.
If you don't like something, change it. If you can't change it, change your attitude.
Taking well-calculated risks now and then is healthy and makes you feel alive.
Learning a second language lets you connect with just that many more people in the world. Do it.
Our grandparents are our sources into the past. Cherish them and all elderly as they've made it farther into this journey than any of us have.
Find what you're passionate about and dedicate time to it daily.
Be the type of friend, partner, co-worker, sibling, etc. you want to have.
The grass may always be greener on the other side, but on your side you can always plant flowers. :)
Travel is the quickest way to give yourself a new perspective, and make you realize that your first-world problems, aren't really problems at all.
Handwritten thank-you notes and love notes will never go out of style.
Be a renaissance man or woman. Know how to change a tire AND make a killer meal. (Hmm, might need a refresher course on that tire-changing thing, Dad!)
Respect the teachers in your life and their work. It's one of life's most under-appreciated professions and it's 10X more difficult than what it appears.
If you don't believe you can do it, you won't. If you believe you can, you will. Simple. (Unless you're believing you'll sprout wings and fly…then I can't help you.)
Dream, often. Make goals, but make them realistic too.
Keep your mind open to new ideas, people, places and experiences.
Even if you're no longer a student, always continue learning. Teach yourself useful skills, read a lot, and find a mentor whom you can ask advice from. Furthering your education doesn't have to mean dropping thousands on higher education.
Make the best of what you have, and never settle for less than you deserve.
Forgiveness is sometimes difficult, but always liberating.
Be nice to waiters, to the store clerk, and to all people in service positions. A smile and a thank you can go a long way to help them through their day. (Says the ex-grocery store bagger, hostess AND waitress!)
Find the beauty in simplicity. Appreciate the little moments.
The only whine worth your time doesn't have an h.
Turn your wounds into wisdom.-Oprah (Couldn't have said it better than this woman!)
Excuses only keep you further from achieving your goals.
As I'm off in the States traveling for a few weeks, catching up with friends and family, I hope you'll check out the guest posts I have lined up from a few fabulous bloggers! Check back often for new posts :)
blog comments powered by

Disqus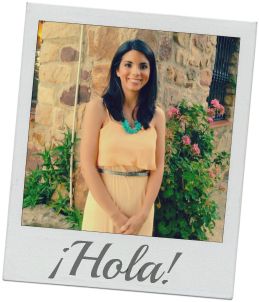 I'm Christine - a 25 year old American expat living la vida Española on the Mediterranean coast in Spain!