Bilbao (or as the locals say: El Centro del Mundo)
There's many reasons to love Bilbao. Some surrender themselves to the famous Basque cuisine served up all over town, while others are enchanted by the rolling green hills that surround the city or its brown-sugar sand beaches.
I personally love Bilbao because in some ways it reminds me of Seattle with its moody weather, proud locals and abundant greenery…but with much, MUCH better public transportation. Seriously. The subway system in Bilbao is so efficient, my car-less, bus-riding self would move there for that reason alone.
It also doesn't hurt that this city is full of great shopping, home to two of the best pintxos I've tried in my life thus far (which is a shockingly high number by now) and is freakishly clean.
Living in a city in Spain where many of the locals are too lazy to pick up their dog's sh*t, I appreciate a clean city when I see one. So thank you, Bilbao. 
Of course, the Guggenheim is always a highlight when stopping in Bilbao. Just don't judge me that I've never actually entered the place…
Café con leche is a must on an overcast (read: typical) day in Basque Country.
The red and white-striped banners are in support of the local football (soccer for my fellow Amerrricans) team: Athletic Bilbao. They recently made an appearance in the UEFA Finals and are set to play against F.C. Barcelona in the Copa del Rey in Madrid in 2 weeks—which I'm going to!
This is the Río Nervion which cuts through the city. Another reason why I love Bilbao: close to the water!
Green space is another vital necessity to city living.
More Athletic support.
And you already know, I can't resist pretty doors.
blog comments powered by

Disqus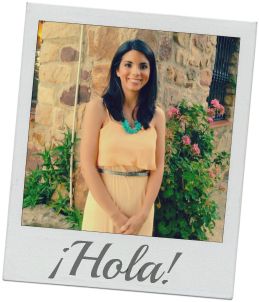 I'm Christine - a 25 year old American expat living la vida Española on the Mediterranean coast in Spain!