Love That Crosses Borders: Andi of MyBeautifulAdventures.com
Andi and I share a love for travel, all things Spanish, and writing about our adventures. She's engaged to an Argentine named Lucas and they're set to get married in May in a dreamy destination wedding in Buenos Aires. Here's her lovely love-story :)
Did you set off on your travels hoping to find foreign love…or did it find you?
Actually, the opposite! I was traveling to try and heal my broken heart. I had just ended a 6 year relationship with a man that I had been engaged to and was experiencing a lot of heartache. The last thing on my mind was meeting someone and falling in love with them. So, I guess you could say love found me.

So…how did you two meet?
At a bar/club in Buenos Aires, Argentina. Our eyes met from across the room and we smiled at each other. I whispered to my girlfriend that I thought he was the most beautiful man I had ever seen and the next thing I knew he was standing next to me with a glass of champagne.


What was your first impression of him?
Well, his accent was ridiculously sexy, so he could have been saying anything and I would have thought he was interesting! Having said that, I found him to be super charming and friendly and not in a cheesy 'Latin Lover' stereotypical way.

Initially, did you primarily communicate in English, or in his native language? What about now?
At first it was Spanglish (definitely more English than Spanish though). Then I started taking Spanish classes, while his English seemed to become fluent overnight, thus we took turns practicing each others language. When we made the decision that he would be moving here, we decided that it was best that we only speak in English in order to prepare him for the States. I still continue to practice Spanish, but with my other Latin friends.


How has dating someone from a different culture changed you as a person?
Well, I now know an entirely different culture, one in which I absolutely adore. I have tried to adapt the parts of his culture that mean the most to me into my culture. It makes for an interesting life, this blend that I have created! Though my friends think I am bit crazy when I try to kiss them all the time!
What is the most difficult thing that comes with dating someone from a different country/culture?
There are a lot of "lost in translation" moments that can be very frustrating. Sometimes we just do not get each other at all and we have learned to become okay with that. I think our biggest difference is the pace in which we run our lives. He is used to a much more relaxed and laid back lifestyle, where I am used to getting things done as fast as possible. We do our best to meet in the middle and I find that our influence on each other has helped us both become better people.

In terms of dating, flirting, etc. what makes the men from your significant other's country different from your home country?
I love how Argentine men wine and dine their women. I feel like a lot of American men have no idea about the art of romance. I also enjoy how easy it is for Argentine men to say sweet nothings; Spanish is such a romantic language and the men definitely use that to their advantage.

What do you believe makes a relationship between two people from two different parts of the world work?
Communication is the key. That is one of the things that I have treasured from being in a long distance relationship, it has forced us to communicate in a very deep and meaningful way. We probably communicate better than most couples who live in the same house. I also think it is important that you teach your partner about your culture as much as possible, so that there are fewer "lost in translation" moments.


What has being in a relationship with someone from another country taught you?
I think the #1 thing it has taught me is that I am just not cut out to date American men (I find them to be quite boring!) In all seriousness, I already knew before I met my partner that I was enchanted with the Latin culture, but now I know that I want it to be a big part of the rest of my life.

And what is the absolute best part of being in love with a man from a foreign land?
I feel like there is always going to be an element of exoticism, because I will always be learning about my partner's culture. Plus, it means lots and lots of trips to Argentina and hopefully one day a second home there.
Follow the rest of Andi's adventures here and on Twitter here.
blog comments powered by

Disqus
skatterbrained liked this
christineinspain posted this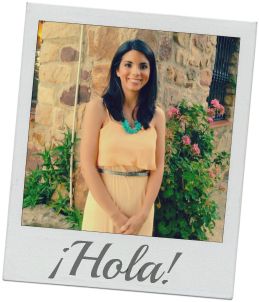 I'm Christine - a 25 year old American expat living la vida Española on the Mediterranean coast in Spain!