A Birthday, A Sacrifice, An Understanding.
Today marks the birthday of a very special person in my life; my father. My childhood wasn't exactly the same as every other kid in my classroom because most of them had both parents born and raised in The United States. My childhood holds memories of learning how to roll my R's, saying a bi-lingual grace before dinner in English and Spanish, piñatas at birthday parties, and every few years, a trip to Mexico.
Family vacation in Hawaii.
I've always relished in the fact that my father being from Mexico made me different. I've felt an inexplicably strong connection to his culture for as long as I can remember, though in many ways, raised in the suburbs of Washington State, I was very separated from it. I have always been so proud that this man, with his mahogany colored skin, and big, booming voice with an accent that I could never hear, was my father.
Growing up, I always felt sad that my family in Mexico was so far from us, that I didn't get to see them on weekend visits, nor on the majority of holiday gatherings. But more than anything, I felt sad that my dad was so far from Mexico. It wasn't until I uprooted myself to Spain that I could truly even begin to understand the sacrifice my father made by leaving his country to make a better life for my mom, brothers and I in the States. Even if it meant being thousands of miles away from his own parents, siblings, friends and life in Mexico.
Our shared passion: fútbol.
My Dad has been living in the States longer than I've been alive. Whenever I have a bad day and I'm tired of being the guiri and I think I can't take another minute of being away from my home, I think about my Dad, whose been doing it for nearly 30 years without ever complaining. Ever. He's now lived more of his life stateside, than in his own country.
He did it so my mom could be in her home country near her family, so my brothers and I could have access to a great education; and so we all could be a bit safer. Now as the drug cartels have started inundating my dad's hometown, I think if it wasn't for the bravery of my dad to leave his life behind and start over again, to a land that's not always the kindest to Mexicans, nor those learning English, our lives would be quite different.
So on this day especially, I think of my dad, as he spends another birthday out of his homeland and in his adopted home. I think of his funny farmer's tan, his affinity for wearing socks with sandals and soccer jerseys, his contagious laugh, his wise counsel, his incredible homemade guacamole, his bear hugs and his big heart. And I'm so thankful.
Pops, gracias por todo. Gracias por tener paciencia conmigo, por ser mi "corrector ortográfico", por tu amor incondicional y por aguantarme cuando te vuelvo loco. Espero que este día tan especial te traiga felicidad, risas y sonrisas. Te quiero mucho!
blog comments powered by

Disqus
0802753 liked this
ec-static liked this
theantagonistmind liked this
christineinspain posted this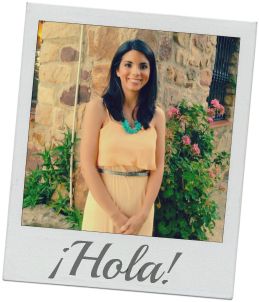 I'm Christine - a 25 year old American expat living la vida Española on the Mediterranean coast in Spain!