Drinks of Spain (With Recipes!)
Summer is approaching and in the south of Spain, that means two things: hot weather and cold drinks. Spain isn't as big on the complicated cocktails I'm used to sipping back home. Like their cuisine, they keep it simple, and of course, delicious!
Here's a round-up of my favorite summer sips, with recipes, so you can make them at home:
Tinto de Verano
Photo via flickr fuertegroup2010

Literally "summer (red) wine", this is a perfect drink for sipping on a hot day in the sun. Think of it as the no-frills sister of sangría.
Tinto de Verano
1 part red wine (tempranillo)
1 part lemon soda, 7-Up or Sprite
Ice
Lemon slice

Kalimotxos
Photo via Flickr Veggiewala
I've written about kalimotxos before, and I mention them again because they're that good. Hailing from Spain's Basque Country, this simple mix of Coke and red wine is the go-to drink of the North.
Kalimotxo
1 part Coca-Cola (Coke Zero tastes just as good if you're counting calories)
1 part cheap red wine (the cheaper, the better I promise!)
Ice
Optional: lime wedge

Claras
Photo via Flickr: kidmissile
I'm more of a wine-girl than a beer-girl, but I'll never turn down a clara. Made with a pale ale and lemon soda, claras are refreshing, citrusy and best enjoyed in the sunshine. They're not strictly Spanish either; you'll find them by lots of other names all over the world. Shandy=UK Panaché=France Bici=Italy
Clara
1 part chilled pale ale
1 part chilled lemon soda, Sprite/7-Up or ginger ale (according to preference)

Rebujitos
Photo via Flickr

This is the drink of Spain's ferias, and is one of those deceptively dangerous drinks that catch up to you and make you tipsy when you least expect it. So drink these moderately!
Rebujito

1 part Fino (a dry, pale, white Spanish sherry)
1 part 7-Up or Sprite
Ice

blog comments powered by

Disqus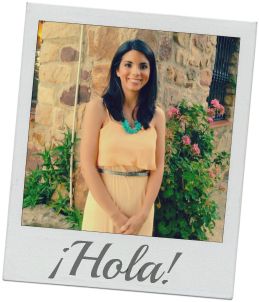 I'm Christine - a 25 year old American expat living la vida Española on the Mediterranean coast in Spain!