Scenes from Conil de la Frontera, Cádiz Part II
Did you catch Part I of Scenes from Conil?
The Tower of Guzman, which is the symbol of the city. 
A cute pup cooling off in the shade of its owner's restaurant.
The Church of Santa Catalina.
The blindingly white streets of Conil.
One of Conil's many beautiful beaches.
The walkway down to the beach and hidden coves.
Palm trees and bell towers.
Hints of color in an otherwise white town.
Scenes from Conil de la Frontera, Cádiz
A visual voyage through the white-washed walls and golden beaches of Conil de la Frontera:
Playa de los Bateles, studded with beach umbrellas in the middle of a hot afternoon.
An artisan market, offering up handmade jewelry, clothing, and more on the beach promenade.
Fresh squeezed orange juice, café con leche and pan con tomate=the breakfast of champions.
La Iglesia de Santa Catalina, built in 1411 onto what was once a mosque.
Though I opted to rent an apartment in Conil, the next time I go, I'll seriously consider camping in Conil because the campsite is close to here. Looks divine, doesn't it?
Summertime= al fresco dining.
Atlantic foam+golden sand
The streets of Conil—offering refuge from the heat amongst their shady twists and turns.
Come back for part 2 of scenes from Conil tomorrow! And while you're at it, check out my first piece over at The Cultureist on ventas in Spain.
Conil de la Frontera; You Surprised Me
What do you get when you mix a pretty Spanish white village, plop it in front of a stunning stretch of coastline, and add in a healthy dose of great nightlife?
Chances are, you'll get Conil de la Frontera.
After visiting this last weekend, I was surprised I had never heard much of this town before. Sometimes, I think it's better that way. That way, I can't build up unrealistic expectations in my head, and just let it surprise me for what it is.
And surprise me it did.
It has a beach for everyone. The first thing you notice when you step onto Conil's main beach is the sand. It's so fine, it feels like silk under your feet. Not to mention, it stretches for miles, both north and south, down the coast, where it turns into no less than 8(!) beaches. The further north you go, the more it starts to resemble the Algarve region in Portugal with its golden sand and quiet(er) coves. The further south down the coast, equals less clothing. And smack-dab in front of Conil is where the families, and everyone else, like to sun-bathe.
It has lively nightlife. Though Spain's nightlife doesn't surprise me much anymore, (because it's pretty safe to say it's consistently great!) I didn't expect a small village like Conil to have a center packed with great bars and beautiful outdoor lounges. Drink prices are cheap (3€ for a jarra) and I didn't come across any covers charges—for guys or girls. Try C/ Del Peñon for a large concentration of bars and clubs and don't miss the open-air club called La Luna!
It has good restaurants in the tourist center. You already know how I feel about eating at those places targeted at tourists. Surprinsingly, in Conil's small center, there are good, authentically Spanish eateries, neighboring all of the restaurants with pictures of the food plastered everywhere. Try Que Ba for tasty montaditos and a range of tapas including fondue, smoked tuna and the ever-so-tender carrillada de cerdo. Chiringuitos down by the beach serve up some of the town's specialties: tuna and pescaito frito!
Have you ever been to Conil de la Frontera? Did it charm you as much as it did me?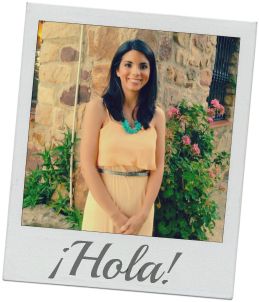 I'm Christine - a 25 year old American expat living la vida Española on the Mediterranean coast in Spain!