Best of Spain Photo Set
I don't think it was until I stepped foot in Europe that I started to really enjoy taking pictures. It's hard not to when you're surrounded by beauty in the form of natural wonders, ancient history and stunning landscapes. Spain is an absolute pleasure to capture on film; she's effortlessly photogenic. Here is a collection of some of my favorite shots of buildings and landscapes I took in Spain over this last year. More to come this year!
Enjoy :)

Cadiz, Spain.
Bilbao, Spain.
Granada, Spain.
Sierra Nevada Mountains, Spain
Port of Lekeitio, Spain.
Sevilla, Spain.
Guggenheim Museum, Bilbao, Spain.
Lekeitio, Spain.
Granada, Spain.
Bilbao, Spain.
Isla de San Nicolás, Lekeitio, Spain.
Granada, Spain.
Rock of Gibraltar (UK territory bordering Spain)
Marbella, Spain.
Ronda, Spain.

Granada & Sierra Nevadas
About a 3 hour drive from the Mediterranean shore, through patches of coastline, olive groves and pueblos, and at the foot of the Sierra Nevada mountains, lies the city of Granada. Granada is one of the most intriguing cities of Andalucía, influenced heavily by the Moorish rule of the past, and now vibrant with a student-heavy population and thriving nightlife. Granada's claim to fame is undoubedtely the Moorish citadel, named the Alhambra, which overlooks the city.
The Alhambra in itself is breathtakingly beautiful. Built in the 14th Century as a fortress for Muslim rulers, and later serving as a palace for Christian royalty, the sprawling grounds of this once 'city within a city' are the quintessential blend of Christian and Muslim cultures, most appreciated in the elaborate detailing and architecture.
Seeing all the Alhambra has to offer takes several hours, and luckily we were blessed with a clear, crisp February day in which to see it. The Alhambra leaves a lasting impression, taking you hundreds of years back in time when architecture served as functional art, unlike modern architecture which essentially rejects any form of ornamentation. Imagine palaces with walls covered in elegant Arabic script and colorful tiles, central open-air courts with pristine pools and gardens, and you can begin to imagine the beauty that is the Alhambra.
(Click here to see a Virtual Tour of the Alhambra.)
The rest of my time in Granada was spent touring the city, fulfilling my cravings for Mexican and Japanese food for the first time in months (oh, the things you miss when away from home!) and heading up to the Sierra Nevada mountains to play in the snow before making the trip back to Algeciras.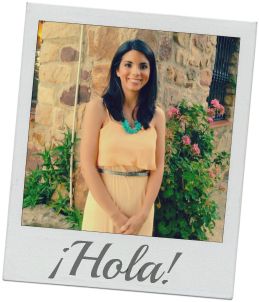 I'm Christine - a 25 year old American expat living la vida Española on the Mediterranean coast in Spain!