Where to Eat in Tarifa, Spain: Restaurante El Tesoro
Sometimes you have a dining experience that's so perfect, from the location, to the food, down to the service, that it doesn't really matter what the bill says at the end.
El Tesoro, located in the mountainside of Tarifa near Bolonia gives you that type of experience.
The restaurant is located off of the highway, past a sign prohibiting you from entering this "Military Road" and up a steep and curvy path that gets progressively worse the closer you get. In fact, the road is so bad (paved only about half-way and pock-marked with potholes and gravel the rest of the way) that you consider turning around.
Finally, you see signs for it, "El Tesoro", which is truly a treasure, and a hidden one at that. Park next to a delightfully rustic farmhouse, which backs into several jagged mountain peaks.
You enter onto a gorgeous terrace, with sprawling views of the restaurant's vineyards, and in the distance, ribbons of Tarifeña beaches and perhaps most impressively, Moroccan coastline.
Though the terrace is seriously tempting, it's nighttime and those chilly Levante winds are no joke, so take a seat at a table inside the dining room.
Of course, no proper Spanish meal shall be started without olives and bread, and just because El Tesoro realizes the magic is all in the details, the waiter will bring out complimentary gazpacho shooters. They are like drinking the Spanish summertime in a glass.
Now, turn your tastebuds to a refreshing bacalao and smoked salmon salad, tossed with crunchy red and green peppers, onions and a cool vinegrette.
Splurge a little and ask for a plate of nutty jamón ibérico de bellota to prep your palate for the main course.
Go for the local specialties of retinto beef or Atlantic tuna cooked to perfection and draped in simple spices and/or sauces as accompaniment.
Indulge in a tarta de manzana that's good enough to trick you into thinking your own Spanish abuela made it for you, and sip on a digestivo on the terrace under the stars.
El Tesoro is located at the turn-off of Km 73 (direction to Bolonia) at Betijuelo 6 in Tarifa. Main courses range from 15-45 euros.
Where I Went in 2011
As the year wraps up, I'm looking back on how amazing it's been, and how lucky I feel to be enjoying these experiences. This year, though I added just one new country to my list, I added many new destinations and explored my adopted country even more thoroughly.
January
I started off 2011 fresh from a Christmas visit in my hometown of Seattle. I rang in the New Year in the gorgeous waterfront pueblo of Lekeitio in Basque Country and made several return trips throughout the year.
I also returned to Sevilla to explore and it grew on me even more.
February
A beach escape to Albuefeira, Portugal for a 3-day weekend convinced me that traveling in the off-season may be the way to go.
March
March was low-key, and I spent it exploring my own backyard; Tarifa, Spain.
April
In April, I returned to Granada, met my favorite Spanish footballer (Fernando Llorente!) and tried out an Arabic Spa for the first time. Sadly, Fernando was not present.
I also celebrated Semana Santa (Easter Week) in the Basque Country, where I dined at my favorite Basque chef's (Karlos Arguiñano) restaurant in the surfing town of Zarautz.
May
May marked the arrival of feria season in Spain. I went to Jerez de la Frontera for a gorgeous weekend of rebujitos, Andalusian horses, flamenco dresses and more!
June
June-August I severely slacked on blogging as I was busy entertaining visitors throughout the summer months. In June, I took a beautiful train-ride up north to Madrid to meet some friends, went back to Bilbao for a weekend, moved apartments and counted down the days until my family arrived!
Then, I went to Zahara de los Atunes for a weekend of beautiful beaches and al fresco dining.
July
July was a busy, busy, month of traveling all over Spain and France. After getting over a yucky stomach bug, I traveled (still not 100%) to sweltering Sevilla and caught a plane to Paris!
My week in France consisted of seeing the Jardin de Luxembourg, eating all the French pastries I could get my hands on, going to Versailles and soaking up everything Parisian!
Then, I went to Tarifa, Ronda, Marbella, Granada and Nerja before I packed up the car and road-tripped from Andalucía to País Vasco. Along the way I stopped in Consuegra and saw the famous Don Quijote windmills, took a day-trip to Toledo, stopped in Madrid and finally arrived for a week of enjoying Basque culture.
Once in Basque country, I went pintxo-hopping (txikiteo) in Donostia, sight-seeing in Guernica+Bilbao and drove up and down the curvy Costa Vasca until we got to France, making stops in St. Jean de Luz and Bayonne.
On the way back down south, we stopped for a few hours in Salamanca and made it back down to the Costa del Sol.
Phew!
August
August was a bit more relaxed, spent enjoying every minute with my family. We explored Tarifa and Sevilla together, as well as Vejer de la Frontera, a traditional Andalusian pueblo blanco.
September
Back to Basque Country I went, this time to attend my first-ever Basque wedding! It was a fun night filled with lots of food (9 courses!) drinks, and dancing! 
October
A car-load of friends and I went to Granada for Halloween weekend, exploring the tea rooms in the Moorish quarter and partying until (almost) sunrise!
November
November was a super exciting month for me as I was heading home(!) to celebrate turning 25 and being there for my first Thanksgiving in 2 years. I spent a week in San Francisco before driving up through Northern Cal and Oregon until Seattle.
December
This month brings trips to Bilbao and Madrid for Christmas and ringing in 2012 respectively.
What a beautiful year it's been!
The Easter Bunny Doesn't Come to Spain
Ahh, Easter. That time of the year when the Easter bunny makes his sweet deliveries to all of the sugar-addicted children, when eggs are painted bright colors and hidden in the grass for hunting, and chocolate bunnies and marshmallow chicks are mass-produced. I suppose, if you're Catholic, good chances are this might be the second time of the year you go to church (Christmas and Easter Catholics, anyone?) Or, maybe not, but that just about accurately describes me.
Growing up, Easter was always a favorite holiday. HELLOOO, have you tried Cadbury eggs?! But here in my dearly adopted country of Spain, I'm pain-stricken to say no jelly-beans or Peeps will be consumed, no plastic eggs will be hidden, and no Easter baskets will be filled. Instead, I'm heading up to the lush, green north of Spain to consume pintxos and kalimotxos to my heart's content and maybe take in some traditional Semana Santa processions.
Good news is, if I'm really desperate for Cadbury, I can hop over to Gibraltar or even buy the Lindt chocolate eggs I saw advertised in the stores yesterday. We'll see how I hold up. Until then, my Easter-bunny believing readers, indulge for me and enjoy these pictures of Semana Santa (Holy Week) processions I witnessed in Tarifa my first Easter here, last year.
P.S. YES, I know they look like Ku Klux Klan, but I promise this is the traditional uniform for brotherhoods during Holy Week in Spain. They're called capirotes and are used to conceal the identity of those wearing them. In Andalucía, where I live, the processions are among the most famous, and thousands gather in crowds to witness the elaborate (and HEAVY!) statues being carried through the streets. This week is a solemn affair for which each city takes the entire year to plan. Yesterday, when rain fell in some parts of Spain and processions were cancelled, everyone was crying in the streets. Intense!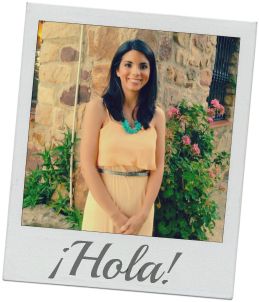 I'm Christine - a 25 year old American expat living la vida Española on the Mediterranean coast in Spain!