Scenes from Conil de la Frontera, Cádiz Part II
Did you catch Part I of Scenes from Conil?
The Tower of Guzman, which is the symbol of the city. 
A cute pup cooling off in the shade of its owner's restaurant.
The Church of Santa Catalina.
The blindingly white streets of Conil.
One of Conil's many beautiful beaches.
The walkway down to the beach and hidden coves.
Palm trees and bell towers.
Hints of color in an otherwise white town.
Travel Photo Editing For Absolute Beginners
My photos of the places I've traveled to will always remain among my most treasured souvenirs of a place. They're unique to me, as the photos reflect the places and people I've seen through my eye alone. When I get home, I'm excited to go through them, and hand-pick the shots I want to edit. This process of looking back on them never fails to bring me right back to the moment I took the shot; it's an amazing way to relive a memory you're not sure you're going to have again.
I don't claim to be an expert photographer, au contraire, I'm still learning LOTS about photography. However, I do have the basics down, and I think if you own a camera, whether it be a DSLR or a point-and-shoot, you should know the basics of editing your photos.
Here's what you need to do:
First, arm yourself with photo editing software. For beginners I'd recommend starting with free software like Picasa, PicMonkey or Aviary before investing in more advanced programs like Adobe Lightroom or Photoshop.
Next, put the software to use and start making basic fixes. Let's start with Auto Levels/Auto Color. A quick click of the mouse can warm up or cool down your image, slightly enhancing it for an overall more appealing look.
Also play around with Hue/Saturation. Saturation will inject more color into the image and hue will change the color. In the image above, I hit the Auto Adjust button, which is an overall fix to the image, and upped the saturation. Talk about quick fix!
Another simple way to take your photo from drab to fab is to play with Brightness/Contrast settings. A lot of beginners' photos straight out of the camera will be underexposed and dull. Play around with exposure and liven up your image!
The more photos you take, the more your eye for framing and composition will develop.However, sometimes we just don't get it right when we take the picture, so that's when Cropping/Rotating will be of use. What should you crop out of photos? Anything that is distracting from the focus of the image. 
I made just a slight crop on this image because the person on the right is distracting.
Though these techniques are basic, if you employ these slight alterations to your photos, you'll have something to look back on that you'll be proud of long after your vacation is over.
My 7 Super Shots
Hostelbookers.com, one of my go-to sites for booking travel accommodation, has started up a meme to share favorite travel photos in the blogging community. One of my favorite bloggers, Erin from La Tortuga Viajera, has tagged me to participate, so here goes!
A photo that…takes my breath away 
Santorini, Greece is as breathtaking in person as it is in photos. It is truly one of the most stunning and picturesque places I've ever traveled to. It's the type of place that's so beautiful, you're happy to return again and it continued surprising me with its beauty on my second and even third (!) visit. 
A photo that…makes me laugh or smile
I can see Gibraltar from my balcony. No, really! So every so often I head over there to buy normal milk, buy some threads from Top Shop and head to the top of the Rock to snap some pics of the ever-playful Gibraltarian apes.
A photo that…makes me dream 
I recently went on a hike to Honey River, found in the countryside just outside of the city I live in. I wasn't expecting to stumble upon such a gorgeous little place! I now understand why it seems to be such a well-guarded secret amongst the people here. I could have spent all day next to this creek dreaming,
A photo that…makes me think
This photo doesn't make me think any deep thoughts, which may have been the point of this prompt, but instead appreciate the Spanish lifestyle I have come to know and love. The Spanish certainly know how to live, and I think I captured the essence of that in this shot. This is a scene from the feria of Jerez—people of all ages drinking, dancing and enjoying.
A photo that…makes my mouth water 
Thoughts of Berthillon ice-cream in Paris will always make my mouth water!
A photo that…tells a story 
Though I didn't take this picture (my friend Julie did) it definitely tells a story! While we were exploring Santorini together, we stopped in the shade to rest. This little girl came over with her dad and struck up a conversation with us. The dad in his broken English asked if we knew Greek, and the little girl took me by my hand and started teaching me how to count in Greek: "Ena, dio, tria!" and we'd spin hand-in-hand in circles. It was the sweetest moment and proved that you don't even have to speak the same language to connect with people.
A photo that…I am most proud of (aka my worthy of National Geographic shot)
I'm not necessarily the most proud of this particular shot, but I do like how it turned out. This is the famous Lone Cypress at Pebble Beach and since National Geographic seems to like iconic, classic shots as much as unique ones, I chose this.
You've been tagged:
Lauren from Spanish Sabores
Liz from Explore.Dream.Discover
Jess from Mike and Jess in Malta
Jenni from Story of My Life
Krista from Rambling Tart
Find instructions on how to participate here.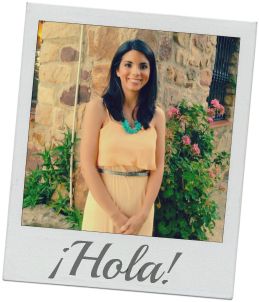 I'm Christine - a 25 year old American expat living la vida Española on the Mediterranean coast in Spain!