My First Arabic Spa Experience
When traveling, I'm all for finding great deals without sacrificing the experience. And while I'm more of a hostel than luxury hotel kind-of-girl, I'll never pass up the opportunity to stay in one for free. Luckily, I was gifted a night in the Macia Real de la Alhambra; a modern 4-star hotel set in the foothills of the Sierra Nevada mountains in Granada. Not to mention, the best part of this particular gift included a few hours in the hotel's Arabic Spa the following morning.
So what's an Arabic Spa you say? Well, it features Arabic Baths, stemming from the Islamic tradition of public bath houses. Arabic baths feature traditional decor, and a variety of pools ranging from cold to warm to hot, in which they're used in a strict circuit. As Spain's history is deeply rooted in its Moorish past, ruins of Arabic Baths are rampant in southern Spain, and the area has seen a resurgence of these once highly popular, ritualistic pillars of social life as more and more hotels open Arabic-style spas. In the past, Arabic baths were a way to escape the hectic city life, congregate with members of the same sex and relax in quiet conversation. Today, their usage has moved from purposes of hygiene to make for a most luxurious experience:
Clutching my towel and stepping cautiously in my flip-flops, the massage therapist took me through the dimly lit corridors of the Arabic Baths. Candlelight flickering around me, with each squeaky step I took, the sound of water crashing against water grew more and more intense. We entered the main corridor which branched into different, secluded swimming areas. "You will follow a circuit of 15 minutes in each pool. First you'll step into the warm pool, followed by the hot pool and then the cold pool. After that, you'll…" Taking mental notes as she spoke rapidly in her native Spanish, I nodded in agreement and tried not to forget her instructions as I shed my towel and dipped into the first bath.
After staying out 'til 8AM the night before partying in Granada's newest club, Forum, (where the Spanish National Team was partying, and met my favorite player, Fernando Llorente!) I melted into the warm waters of the first bath—thankfully a great hangover cure. Then, on to the hot tub featuring massaging jets and a large waterfall intended for massaging the back, neck and shoulders. I was quickly reminded that the late night wasn't quite out of my system, and moved on to the cold pool. Though it was probably no colder than a normal outdoor swimming pool, after the contrast of the hot pool, it felt AMAZING.
After the circuit of different baths, I headed to a Turkish Bath, which is less bathing and more steam—hot, almost-suffocating steam, that opens your pores and does wonders for your skin. When I grew tired of the laborious breathing the Turkish Baths induced, the next part was an ice bath, or more aptly named rub-handfuls-of-ice-all-over-yourself-bath. I couldn't handle more than a minute of that icy ridiculousness (though admittedly refreshing) and made one last stop before my aromatherapy massage: the tearoom.
Sipping on Moroccan mint tea, lounging on intricately-patterned pillows, I realized I had been converted into an Arabic Spa fan—before my massage even happened! A few hours in an Arabic Spa make for a perfect morning of relaxation (or in my case, ease you out of your hangover!) and I love how it's done in a circuit. Packages at the Macia Real de la Alhambra start at 18€, or go through a company like HammamSpain.com, which features Arabic Baths all over southern Spain and Madrid. I highly recommend this traditional spa experience for anyone coming to southern Spain looking for an affordable and fun way to relax.
Have you ever had a unique spa experience either in your own country or in a foreign land? Tell me about it in the comment section below!
No, I was not the creepy girl with the camera in the baths, photos are courtesy of the Macía Real de la Alhambra website.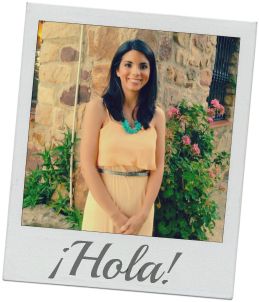 I'm Christine - a 25 year old American expat living la vida Española on the Mediterranean coast in Spain!