Bilbao's Best Pintxo
There's a Basque saying that succiently sums up the culture:
Nola jan jakitea, nahikoa jakitea da.

To know how to eat is to know enough.

If you've ever been to Basque Country, or met a Basque person, chances are, you've discovered they're super passionate about food. Everyone's a foodie. Conversations about food come up regularly, and social gatherings aren't complete without an array of pintxos (the Basque bigger-and-better version of tapas) within close grasp.
When I head to Bilbao, I make a bee-line for Café Iruña.
When you walk through the door of this ample space, an establishment of over 100 years old, you'll notice it's tiled wall-to-wall with gorgeous tile-work of surprisingly (very non-Basque) sherry from Jerez.
Though it's beautiful, your attention (and sense of smell) will soon guide you to the corner where you'll find someone manning the grill, underneath a sign that claims these are the best pintxos of their kind the whole world over. How very Basque to make a claim like that!
But, as exaggerated as the Basques may be, they're not kidding around when they're talking about this pintxo. Called the Pincho Moruno, it's a perfectly seasoned, perfectly tender lamb kebab, grilled to, well, perfection!
I take all of my guests here. And if you're ever in Bilbao, take yourself to Café Iruña (Calle Berástegui 4), order the Pincho Moruno and thank me later.
(My 2nd place pinxto award goes to the grilled and seasoned mushrooms at Bar Motrikes (Somera 41) in the Casco Viejo. You're welcome!)
Guest Post: 4 Day-Trips from Bilbao by Liz of LizenEspaña.com
A fellow Basque-Country enthusiast, Liz, from lizenespana.com has cheerfully agreed to share her northern Spain expertise and insight today. Moving in to her second year of living abroad, she's come to know and appreciate the Basque region, and is spilling her secrets on the best day-trip destinations from Bilbao. Thanks, Liz!
I've noticed something this past year while living in Bilbao. When talking to Spanish people about where I live, they all seem to give the same response: "Eh, Bilbao is no good, you should live here," said my host mom when I went to visit her in Valladolid.
"You actually like living there? But it's so dirty!" was the response from a friend I met at camp. It seems that many Spaniards have the same perception of Bilbao: dirty, industrial, and not a very "fun" place to live.
I have to disagree.
 Bilbao did and still does have an industrial flavor, but the citizens have embraced it and gone to great lengths to beautify the area and make it a modern, European city.
 Everyone knows about the Guggenheim Museum, and it certainly has helped with Bilbao's revival. However, one of my favorite things about living in Bilbao is that it is wonderfully connected. It has an amazing public transportation system, which enables you see a majority of the Northern Spanish countryside. Here are four of my favorite day-trips from Bilbao:
 Gernika (Guernica)
 If you're looking for a typically Basque village, Gernika is just that. It gained its notoriety during the Spanish Civil War, when the Nazis bombed it in order to support Francisco Franco's efforts to overthrow the Basque Government and the Spanish Republicans. Over 1500 people died, as it was a market day in Gernika, and people from all over the province were there to buy and sell goods.
 Last year I visited Gernika on the last Monday market day before winter.  The town was full of people, and there were streets filled with stands selling cheese, bread, and txakoli (Basque white wine). I also visited the seat of the Biscay parliament, and saw the Oak of Gernika, which symbolized peace. While Pablo Picasso's famous painting "Guernica" is located in the Reina Sofia Museum of Modern art in Madrid, you can see a reproduction of the painting in mosaic in the town center.
Castro Urdiales
 Castro is a small beach town in the autonomous community of Cantabria, but it's only 30 minutes from Bilbao by bus. There's a beautiful beach (actually, two of them), and a jetty where people lay out on sunny days. The beaches are relatively uncrowded, and the architecture on the beach is stunning.  There's also a gorgeous 13th century church and a fort that overlooks the Bay of Biscay.
I love spending the afternoon in Castro, lounging on the beach and later taking a stroll down the newly renovated pedestrian boardwalk. There are some great cafés, with pintxos and tapas, and if you ask nicely, the bartender at Café Dallas will make you some homemade sangria.
San Juan de Gaztelugatxe (Bakio)
 I have a love/hate relationship with hiking. I never really want to do it, but once I do, I'm always glad I did. San Juan de Gaztelugatxe one of the coolest hikes I've done this year in the Basque Country.
 San Juan is an old hermitage located on an island that can only be reached on foot.  The church dates back to the 10th century, and was sacked by Sir Francis Drake in the late 1500s. There's a stone bridge that takes you to the island, and sometimes the surf is so high that it crashes over the bridge. It's one of those places where the closer you get, the more picturesque the view gets.
 The hike isn't overly strenuous, and only takes a couple hours. Plus, halfway to the hermitage, there's a small café with some of the best pintxos I've ever eaten.
 Once you get to the hermitage, you can ring the bell, have a picnic, and even stay overnight if you wish to camp there.  When you are looking out over the Bay of Biscay at the jagged coastline, it's easy to see why invaders had a difficult time conquering this part of Spain.
 St. Jean de Luz
 Yes, I know St. Jean de Luz is in France, but it's still French Basque Country, so it counts. St. Jean is just over the French border, and is a posh resort town. It's a little touristy, but it has so much charm that can be easily forgiven, especially if you visit out of season.
 Walk down the main street and peruse the quaint shops, and make sure to stop for a crepe—so French. There are a number of treat shops that have beautiful pastries, and they taste just as good as they look. After, take a walk down the long beach, or check out the promenade that parallels the water.
 St. Jean de Luz is also a good stopping point along the way to other notable French seaside towns, such as Bayonne and Biarritz, should you want to venture further into France.
 These four locations are great places to explore, and from Bilbao, the furthest you'll have to venture is two hours. Whether you're looking for history, adventure, or simply a relaxing day on the beach, the northern coast of Spain is the place to be.
Pintxo-Tasting in San Sebastián
Pintxos (peen-chohs), the Basque word for tapas, are small portions of food set up on the bar for purchase to accompany your drink. How do they differ from tapas? Well, they don't really. Pintxos typically are speared with a toothpick atop a small piece of bread and tapas are more likely to be served on small plates, but with the ever-inventive Basque cuisine, tradition isn't always adhered to. Also, tapas are free in some parts of Spain with the purchase of a drink (though this is the exception), and pintxos are always paid for.
Txikiteo (chih-kee-tay-oh) is at the heart of Basque culture, but what does it mean? It's the Basque word for bar-hopping, enjoying a pintxo and glass of txakoli (or whatever floats your boat) at each place before moving on to the next. On weekends, txikiteo starts around noon and goes well into the evening when the pintxos are pulled and replaced by cold glasses of kalimotxo.
This summer I spent showing my family a grand tour of Spain, from south to north and back. One of the days we headed to a city near and dear to my heart, simply because it's gorgeous and I really wished I lived there; San Sebastián. If you've ever heard of San Sebastián, chances are the person telling you about this city said in the same breath: "and the food is incredible!".
Boasting the 2nd most Michelin-starred restaurants in the world (fourteen!), it's no wonder that San Sebastián is a foodie's dream destination. But, you don't have to be a foodie to appreciate the pintxos.
There's no shortage of pintxo bars in San Sebastián, and since they're regarded as some of Basque Country's best, you're really spoilt for choice. Like any cultural thing, there's etiquette to be followed, so here's a quick lesson:
The best times to txikiteo are from noon-2pm and from 8pm-11:30pm. This is when everyone goes, so the supply is never stale or lacking.
Never leave your dirty napkins/toothpicks on the table or bar. It's rude. Instead, drop them on the floor, like everyone else does.
Speak confidently and clearly to the bartender. You're contending with locals here, and if you don't approach the bartender in the right way, he/she won't notice you and you won't be served. So use your outside voice! :)
You may have to get the bartender's attention to be served drinks, but selecting pintxos is up to you—unless of course it involves raw meat that the kitchen needs to cook for you, or hot pintxos that require warming up. Many pintxos, (like those pictured) are cold however, and you can serve yourself. Keep track of how many you and your amigos have eaten as you'll be expected to give a full tally to the bartender when you're ready to play. This is an honor system, so don't be a jackass.
An "eskerrik asko" (thank you) will get you more smiles than a "gracias".
The Old Town of San Sebastián is ideal for pintxo-hopping as there's a high concentration of bars there. I recommend starting at either C/ Fermín Calbetón or C/ 31 de Agosto, my go-to areas.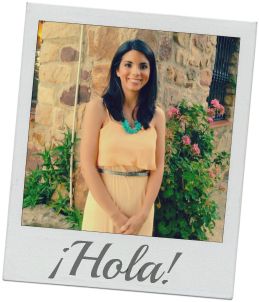 I'm Christine - a 25 year old American expat living la vida Española on the Mediterranean coast in Spain!