Conil de la Frontera; You Surprised Me
What do you get when you mix a pretty Spanish white village, plop it in front of a stunning stretch of coastline, and add in a healthy dose of great nightlife?
Chances are, you'll get Conil de la Frontera.
After visiting this last weekend, I was surprised I had never heard much of this town before. Sometimes, I think it's better that way. That way, I can't build up unrealistic expectations in my head, and just let it surprise me for what it is.
And surprise me it did.
It has a beach for everyone. The first thing you notice when you step onto Conil's main beach is the sand. It's so fine, it feels like silk under your feet. Not to mention, it stretches for miles, both north and south, down the coast, where it turns into no less than 6(!) beaches. The further north you go, the more it starts to resemble the Algarve region in Portugal with its golden sand and quiet(er) coves. The further south down the coast, equals less clothing. And smack-dab in front of Conil is where the families, and everyone else, like to sun-bathe.
It has lively nightlife. Though Spain's nightlife doesn't surprise me much anymore, (because it's pretty safe to say it's consistently great!) I didn't expect a small village like Conil to have a center packed with great bars and beautiful outdoor lounges. Drink prices are cheap (3€ for a jarra) and I didn't come across any covers charges—for guys or girls. Try C/ Del Peñon for a large concentration of bars and clubs and don't miss the open-air club called La Luna!
It has good restaurants in the tourist center. You already know how I feel about eating at those places targeted at tourists. Surprinsingly, in Conil's small center, there are good, authentically Spanish eateries, neighboring all of the restaurants with pictures of the food plastered everywhere. Try Que Ba for tasty montaditos and a range of tapas including fondue, smoked tuna and the ever-so-tender carrillada de cerdo. Chiringuitos down by the beach serve up some of the town's specialties: tuna and pescaito frito!
Have you ever been to Conil de la Frontera? Did it charm you as much as it did me?
Costa del Sol's Redemption:Nerja
In the chilly winter months, I love wrapping myself in a blanket and indulging in a cup of hot cocoa as much as the next person, but I also can't help but dream of the warmer months to come. Spain is a summer-lover's paradise, full of gorgeous seaside towns, stretches of golden sand and plenty of cold drinks to keep visitors satisfied and returning in huge numbers, year after year.
Amongst all of the blinding white pueblos of Andalucía, fishing villages and glitzy resort towns, one particular place, has quickly risen to the ranks of being my favorite Southern Spain beach town; Nerja.
Nerja is bustling without being overrun by tourists, charming without losing its authenticity, and set against the gorgeous backdrop of the Mediterranean Sea.
From May to September the weather is beach-worthy, and depending on the year, in April and October as well! Join in for the evening paseo through the winding streets, take in the views from the Balcón de Europa, and stumble upon the less-touristed tapas bars near Herrera Oria, where you'll be rewarded with a free tapa with each drink.
Though placed on the notoriously packed Costa del Sol, Nerja doesn't live up to the reputation of its glammed-out, foreigner-infested neighbors like Marbella. Though no longer a hidden gem, it remains true to itself; a gorgeous seaside escape worth spending your time in.
This post was made possible by Kathryn from sellmytimesharenow.com , a website which helps owners of timeshare villas connect with interested buyers and renters. Kathryn is an avid fan of travel, and she hopes to one day explore the entire world. So far she's been to Las Vegas, Montreal, Toronto, Orlando, Savannah, Boston and Portland….if anyone wants to take her to Spain, she'll gladly go. You can follow sellmytimesharenow.com on Twitter  or become a fan of them on Facebook to be the first to know about upcoming rental deals and travel info.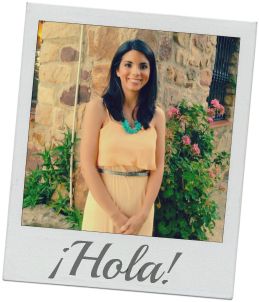 I'm Christine - a 25 year old American expat living la vida Española on the Mediterranean coast in Spain!