Bilbao's Best Pintxo
There's a Basque saying that succiently sums up the culture:
Nola jan jakitea, nahikoa jakitea da.

To know how to eat is to know enough.

If you've ever been to Basque Country, or met a Basque person, chances are, you've discovered they're super passionate about food. Everyone's a foodie. Conversations about food come up regularly, and social gatherings aren't complete without an array of pintxos (the Basque bigger-and-better version of tapas) within close grasp.
When I head to Bilbao, I make a bee-line for Café Iruña.
When you walk through the door of this ample space, an establishment of over 100 years old, you'll notice it's tiled wall-to-wall with gorgeous tile-work of surprisingly (very non-Basque) sherry from Jerez.
Though it's beautiful, your attention (and sense of smell) will soon guide you to the corner where you'll find someone manning the grill, underneath a sign that claims these are the best pintxos of their kind the whole world over. How very Basque to make a claim like that!
But, as exaggerated as the Basques may be, they're not kidding around when they're talking about this pintxo. Called the Pincho Moruno, it's a perfectly seasoned, perfectly tender lamb kebab, grilled to, well, perfection!
I take all of my guests here. And if you're ever in Bilbao, take yourself to Café Iruña (Calle Berástegui 4), order the Pincho Moruno and thank me later.
(My 2nd place pinxto award goes to the grilled and seasoned mushrooms at Bar Motrikes (Somera 41) in the Casco Viejo. You're welcome!)
Bilbao (or as the locals say: El Centro del Mundo)
There's many reasons to love Bilbao. Some surrender themselves to the famous Basque cuisine served up all over town, while others are enchanted by the rolling green hills that surround the city or its brown-sugar sand beaches.
I personally love Bilbao because in some ways it reminds me of Seattle with its moody weather, proud locals and abundant greenery…but with much, MUCH better public transportation. Seriously. The subway system in Bilbao is so efficient, my car-less, bus-riding self would move there for that reason alone.
It also doesn't hurt that this city is full of great shopping, home to two of the best pintxos I've tried in my life thus far (which is a shockingly high number by now) and is freakishly clean.
Living in a city in Spain where many of the locals are too lazy to pick up their dog's sh*t, I appreciate a clean city when I see one. So thank you, Bilbao. 
Of course, the Guggenheim is always a highlight when stopping in Bilbao. Just don't judge me that I've never actually entered the place…
Café con leche is a must on an overcast (read: typical) day in Basque Country.
The red and white-striped banners are in support of the local football (soccer for my fellow Amerrricans) team: Athletic Bilbao. They recently made an appearance in the UEFA Finals and are set to play against F.C. Barcelona in the Copa del Rey in Madrid in 2 weeks—which I'm going to!
This is the Río Nervion which cuts through the city. Another reason why I love Bilbao: close to the water!
Green space is another vital necessity to city living.
More Athletic support.
And you already know, I can't resist pretty doors.
Why Basque Country Needs to Be on Your Itinerary
Playa La Concha in San Sebastián, Basque Country
I often get e-mails from readers asking for my Spain travel advice. They give me a run-down of their itinerary and it always looks something like this: Madrid, Barcelona and somewhere in Andalucía (usually Sevilla or Granada). Once in awhile I might see a trip planned around a famous festival—like San Fermines (The Running of the Bulls) in Pamplona or Tomatina in tiny Buñol, but usually they just stick to this tried-and-true sun and sangria trail.
Plaza Nueva, Bilbao, Basque Country
Sounds like a pretty solid travel itinerary, right? Barcelona is a city I could never tire of and Andalucía is a must for a glimpse of the romantic Spain we dream of. But, I can't help but add my two cents and tell them they should really try to make it up north during their time in Spain. And by "really try" I actually mean if you don't include it you're making a big mistake.
Yup, I said it.
San Sebastián
The mysterious north of Spain seems to be the country's best-kept secret. From the wild coast and fresh seafood of Galicia, to the crisp cider and snow-capped mountains of Asturias and the rolling green hills and Michelin-starred restaurants of Basque Country, the north of Spain is by no means untouched by tourism. But, it offers a completely different Spain than the one you've envisioned.
And Basque Country, a region special to me for several reasons, will be worth every penny it takes you to include it in your travel plans. Different people feel differently about well, different, places but—I've yet to meet a person who has been to Basque Country and didn't love the place. I'm not a gambler, but I'd be willing to bet Basque Country will have the same effect on you too.
You'll eat delicious pintxos, which kick tapas a$$ any day:
You'll wash it down with Txakoli, a crisp, white wine:
You'll admire how Bilbao balances its industrial past with its modern present
You'll walk mouth agape in San Sebastián
…but most of all you'll wonder why a place so beautiful is one many seem to have never even heard of. So, I'm feeling generous and I'm letting the secret out. Go to Basque Country, and thank me later.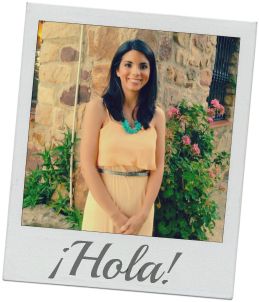 I'm Christine - a 25 year old American expat living la vida Española on the Mediterranean coast in Spain!