Best of Southern Spain Roadtrip
Coming from a country so huge, (the USA) taking a road-trip has never been my idea of a good time. We've all heard of the "Great American Roadtrip" on Route 66, but I've always preferred to hop in a plane and be at my destination in a few hours, rather than pack up the car and be there in a few days. I've roadtripped (yes, I'm making that a word) from Seattle to Mazatlan, México and from Seattle to St. Louis, and though they make for fond memories, the hours spent in the back of a car, eyes glazed over, didn't always make for the most entertaining time.
Alas, I have changed, as I've rediscovered the roadtrip here in Spain, and what can I say? I'm a fan. Living at almost the most southern point of Spain, my unique location puts a wide spread of destinations within my reach, and what would be hours upon hours back home, is much closer over here in a country smaller than the size of Texas.
So what road-trip do I recommend for you; the traveler? I've compiled my favorite itinerary, using Málaga as a base.
Day 1
Málaga—>Nerja
As Andalucía's main point of entry, Málaga makes for a great base. Though Málaga offers a few sites to visitors, such as the 11th Century Alcazaba, the Castle of Gibralfaro, Calle Larios in winter and Constitution Square, if you do come, plan it around the grand Feria de Málaga in mid-August or during Semana Santa to get an authentic taste of local culture. If not, explore the sites early, and head east up the coast to the beautiful beach-town of Nerja to soak up the sun, and explore the famous caves.
Days 2-3
Nerja—>Granada
I've made it no secret that Granada is one of my favorite cities. Take at least two days to see La Alhambra, El Albayzín (The old Moorish quarter), stroll through the center, take in the nightlife and enjoy free tapas on Calle Navas.

Days 4-5
Granada—>Córdoba
From Granada, head north to Córdoba and spend a couple of days exploring the UNESCO World Heritage Old Town, the Great Mosque, the many parks and if you're around in May, the Feria de Patios, where many residents deck our their patios in gorgeous floral arrangements.

Days 5-6
Cordóba—>Sevilla
Considered one of the greatest cities in Spain, chances are, Sevilla will capture your heart. Don't miss the Cathedral, Barrio Santa Cruz, Alcázar, and Plaza España.

Day 7
Sevilla—>Vejer de la Frontera—>Arcos de la Frontera—> Ronda
No tour of southern Spain would be complete without a stop in one of the famous pueblo blancos (white villages). From Sevilla, make stops in some of the most beloved: Vejer de la Frontera perched on a hill, Arcos de la Frontera atop a sandstone ridge, and lastly, Ronda located deep in the mountains above El Tajo canyon.
Day 8
Ronda—>Malaga
Use your last day to wander around Ronda, and head back to Málaga, or continue west to Gibraltar, Tarifa and up the Costa de La Luz for unspoilt stretches of Atlantic beaches.
Many thanks to Brit Car Hire for making today's post possible.
To rent a car in Spain for your next road-trip, visit Brit Car Hire. They offer rental cars in Alicante, Málaga, Mallorca, Barcelona, etc. They only rent right-hand driven cars.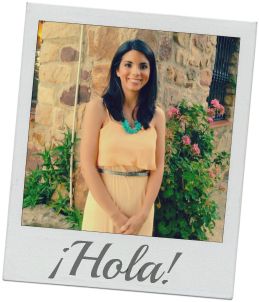 I'm Christine - a 25 year old American expat living la vida Española on the Mediterranean coast in Spain!