Carnaval in Cádiz via Instagram
After spending my first Carnaval in Cádiz back in 2010, I knew I'd be back. Though that first visit took me there on a Saturday night, braving the cold, the bottle-filled streets and the mobs of people until the wee hours of the morning, this year, I was content with settling for a Sunday day-trip instead.
If I thought going in the day would mean I'd be missing out on the party—I was dead-wrong.
Carnaval surges full-steam ahead throughout the week and Sunday was just as crazy as Saturday night. However, instead of rain and chilly temps, I said "Salud!" with Rebujitos and Cruzcamp in the sunshine, and found there were just enough people to fill the streets while also making moving around the city an option.
If you choose to go on a Friday or Saturday night, realize you'll be packed in a crowd and it will be frustrating trying to move anywhere. Passing around a bottle of manzanilla with your amigos and being stranded in the middle of a plaza with no where to tinkle is not my idea of a good time.
That's why I heartily recommend going on Sunday instead.
You'll get to see everyone's costumes much more clearly in the sunlight.
You'll even find quiet pockets of the city as you snake around the streets.
Bartenders won't be grumpy—yet.
You'll be able to enjoy bar-hopping with much more ease of getting around.
You'll run into cuartetos and chirigotas performing in each plaza.
You'll see this ancient city bathed in sunlight.
The Catedral is prettier at sunset than at 3AM anyway.
You'll enjoy beachside drinks.
You'll see peeks of the city at night.
You'll get to watch the sunset over the Atlantic before you head home to a nice, warm bed.
Have you ever been to a Carnaval celebration?
Where I'd Take a Visitor to in Andalucía, Spain
Despite it being January, I can't help but be SO excited about summer. My parents plan to spend a month here in Europe with me, my aunt is constantly checking flights, and my brothers and their significant others are throwing around dates and saving up vacation days. By the looks of it, I'll be having a steady stream of visitors, not to mention my friends who have already bought their plane tickets!
With the exception of my brother's lovely wife, none of them have stepped foot in Spain before. With all of their different itineraries lasting from a few days to a few weeks, these are a collection of my favorite spots I'll show them in Spain's south; and where you should map your itinerary if you plan on visiting Andalucía.
Tarifa
Countryside leading to Tarifa, and Morocco behind.
Tarifa goes from quiet coastal village to buzzing beach town as the weather heats up. As Spain's (and continental Europe's) southernmost city, Tarifa beckons kite-surfing aficionados chasing the notorious winds of the area, and sun-worshipers setting their sights on the long white stretches of sand. Tarifa also delivers views of Morocco, as Tangier sits directly across the Strait of Gibraltar, and is where the Mediterranean Sea and Atlantic Ocean meet. Go here, channel your inner Sarah Palin and say you "can see Russia Africa from your backyard."
Ronda
View of Old Town across the El Tajo Gorge in Ronda.
Ernest Hemingway was so in love with Ronda, he decided to call it home and penned his novel For Whom The Bell Tolls about it. Ronda is an enchanting hill-top town perched precariously atop the El Tajo gorge that plunges down, and is surrounded by valleys of olive groves and vineyards. It's the quintessential pueblo blanco of Andalucía.
Sevilla
Just thinking of Sevilla reminds me of its signature fragrance: orange blossoms permeating the air. Sevilla embraces all of the things that make Andalucía what it is: the bullfighting, the ferias, the sangría and the flamenco and they do so with absolute gusto.
Granada
View of the Moorish Quarter from the Alhambra Palace
Complimentary tapas, a heavy Moorish influence and a fascinating history all add to the allure of one of my favorite Spanish cities. Though the summers here are notoriously hot, it's still worth braving the high temps for the views of the Alhambra and Generalife Gardens alone.
Nerja
From the Balcony of Europe: Nerja
Northerners flock to the shores of Nerja for a sunny summer retreat. Picture secluded coves, white-sand beaches and whitewashed houses against the backdrop of the Mediterranean Sea and one can imagine the allure of this quaint seaside village.
Marbella
Marbella at sunset
Marbella may have a hedonistic reputation, but there is more to it than its glitzy veneer. The city's rich history as the result of being conquered by none less than the Phoenicians, Greeks, Romans and Arabs can be seen everywhere from crumbling castles in the casco antiguo (old town) to its mosques. Whether you come to partake in the excess of this elite resort town, or wander through its ancient streets you won't leave disappointed.

Cádiz
The Cathedral of Cádiz
Cádiz, despite being a major port city, manages to be a worthy destination
with a thriving café culture and history that goes back further than Jesus Himself. It is thought to be the oldest continuously inhabited city in Europe and was founded by the Phoenicians, and later thrived from an influx of riches from the New World. It also boasts mainland Spain's biggest Carnavale celebration, only steps behind Rio's.
Andalucía swoons visitors with its intriguing history and perpetual sunshine—and though I've yet to go—Cordoba, Arcos De La Frontera, and several more pueblos along the Costa de la Luz and Costa del Sol are soon to be added to my list of destinations after this sweeping tour of the South.
Best of Spain Photo Set
I don't think it was until I stepped foot in Europe that I started to really enjoy taking pictures. It's hard not to when you're surrounded by beauty in the form of natural wonders, ancient history and stunning landscapes. Spain is an absolute pleasure to capture on film; she's effortlessly photogenic. Here is a collection of some of my favorite shots of buildings and landscapes I took in Spain over this last year. More to come this year!
Enjoy :)

Cadiz, Spain.
Bilbao, Spain.
Granada, Spain.
Sierra Nevada Mountains, Spain
Port of Lekeitio, Spain.
Sevilla, Spain.
Guggenheim Museum, Bilbao, Spain.
Lekeitio, Spain.
Granada, Spain.
Bilbao, Spain.
Isla de San Nicolás, Lekeitio, Spain.
Granada, Spain.
Rock of Gibraltar (UK territory bordering Spain)
Marbella, Spain.
Ronda, Spain.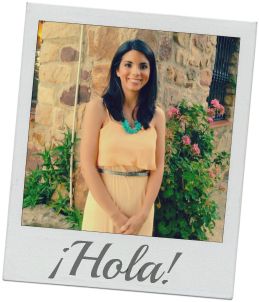 I'm Christine - a 25 year old American expat living la vida Española on the Mediterranean coast in Spain!