An Evolving Passion: One Girl's Relationship with Spanish Food
I'm so happy to have Lauren of Spanish Sabores guest posting today! Though we've known each other in the wonderful world of travel blogging for a while, we just recently met up in Madrid. I'm so impressed by her entrepreneurial spirit (check out her food tour in Madrid!) and absolutely love her food posts over on her blog, so I asked her to write about where it all began: her relationship with la comida Española, that is! Make sure to pop over to her site Teach and Travel to check out a piece I did on three pueblos blancos I adore.
"It's nothing special…"
 That is what I would have said if you had asked me about Spanish cuisine six years ago. I was seriously mistaken and quite naïve—to be blamed in part on a penny pinching Spanish host mother and the free, but often mediocre, tapa culture of Granada. I would never have thought that only six years later I would be earning a living giving food tours and writing about authentic Spanish cuisine.
When I first came to Granada, Spain in 2007 to study Spanish, I lived with a retired couple— Miguel and Josefina. Miguel had a mild form of dementia and didn't talk very much; he mostly just watched football and occasionally asked me if I liked what we were eating. Josefina was the family's sole provider, and at 67 years old she was able to make some sort of living by hosting exchange students. I arrived starry eyed, expecting a loving Spanish mother figure, but instead I met business minded Josefina. It was her seventeenth year hosting students, and it really was her business.
 I didn't really mind; I went out a lot and loved the apartment's location. But for learning about Spanish food, Josefina's house was not the right place! Despite claiming to have owned a small restaurant in her younger years, Josefina was a pretty awful cook—when she cooked at all! Mostly, she fed me frozen foods or typical inexpensive Spanish dishes. There was arroz a la cubana (white rice, tomato sauce and a fried egg), ensalada de arroz (a cold rice salad with frozen vegetables, tuna, olive oil and vinegar), and tortilla a la francesa (a boring, dry omelet with absolutely no toppings or seasoning). Sounds great right? In fact, during the entire four months that I lived there I was only served meat once (if you don't count the frozen fried concoctions) and by the end I had lost about 10 pounds!
Image found here. 
I couldn't complain because I was in Granada—the city of free tapas and cheap kebabs. I survived quite nicely on croissants, small beers and free tapas, and lamb kebabs, and I actually quite enjoyed that diet at the time. I was convinced that Spanish food was not much more than cheese, olives, ham and eggs (all of which are indeed important Spanish ingredients) and rarely ate out at a restaurant to be able to know any differently—I was on a student budget after all!
Toward the end of my four-month stay I remember visiting Madrid. My friend and I decided to splurge on a nice restaurant recommended in our guidebook. I was dying for a steak—any cut would do. We analyzed the menu, her Spanish better than mine, but couldn't find the word we'd learned for steak—bistec. So we settled on other options, only to quickly observe everyone around us diving in to their big, juicy steaks. We learned a valuable (albeit disappointing) vocabulary lesson that night; bistec means steak in much of Latin America, but in Spain people use other vocabulary.
So after four months in Spain I headed home, largely unimpressed with Spanish food and confused about why I kept on hearing that Spain had "the best restaurants in the world". Oh, if I only knew!
I moved to Seville two years later, and was, gastronomically, at a completely different point in my life. I had since discovered a love of wine in Argentina and taken various wine courses as a part of my degree in tourism. I'd also worked in some of the best Massachusetts restaurants and country clubs where the chefs imparted upon me their love of the kitchen— so much, in fact, that I had to make the difficult decision between culinary school and moving to Spain. It was a tough choice, but Spain was a much more economical decision at the time.
The night I met my husband I was only one week into my new Spanish life in Seville. I told him that Spanish food was boring. He looked at me, confused. He didn't defend his cuisine, instead he just told me to wait. He ordered some tapas at the restaurant where we were having a drink. It was a simple tapas bar, but it was where I woke up to the reality of the quality of Spanish cuisine.
Three years later food is an enormous part of my life. I am constantly trying new dishes and restaurants in search of exciting combinations or simply well done traditional food. I now believe that Spain offers one of the most exciting, high quality, and healthy cuisines in the entire world. It just takes some time to try things and find out what you like.
Here are some of my favorite Spanish foods that I had never tried in the US. If you get the chance, please try them—they might just change your life!
Pulpo al Gallego: Galician style octopus is thinly sliced and served with smoked Spanish paprika, sea salt and extra virgin olive oil.
Boquerones en Vinagre: Anchovy fillets that are cured in a vinegar marinade.
Salmorejo: A creamy cold tomato soup made of tomatoes, hard-boiled egg, stale bread, and olive oil. Served with diced Serrano ham on top.
Huevos Rotos: Soft-boiled eggs served on top of homemade French fries with choice of Serrano ham, chorizo, morcilla (blood sausage), vegetables, etc.
Croquetas de Boletus: Crispy fried mushroom and béchamel fritters.
Langostinos Tigres a la Plancha: Delicious jumbo prawns sprinkled with sea salt and grilled, served whole in their shell. 
At this point, I still fantasize about going to culinary school and being the next Ferran Adria, but I make due with being a decent home cook instead. Yet I try to transmit my love for the Spanish kitchen through my writing and now with my food tours in Madrid. Basically, I don't want other people to ever endure four months thinking that Spain is nothing more than olives, cheese, and free tapas. Spanish food is fresh, diverse and delicious, and Spain is an essential travel destination for anyone who loves food.
Lauren Aloise is the founder of Madrid Food Tour. An optimistic entrepreneur and self-proclaimed professional tapa taster, shewrites,tweets, andcooks out of her tiny Madrileño apartment.
Guest Post: Celebrating Thanksgiving Abroad
Today's guest post is from Lauren of laurensroadlesstraveled.com. After living and studying in both Australia and England, she's back in the U.S., readjusting to American life in Washington D.C. Here, she shares her experience celebrating Thanksgiving abroad, and sharing a part of her culture with others. Enjoy!
One of my fondest memories while studying abroad in England was the night I celebrated Thanksgiving with 17 of my international friends.  Packed into a tiny, European living room, we feasted on one of the greatest meals I've ever cooked.

For the first time in 23 years, Thanksgiving was my holiday.  I picked the menu, did the majority of the cooking, and shared all of my favorite traditions.  Instead of watching my mother prepare the turkey, I had the pleasure of buttering it up, (plucking out the insides, yuck!), and cooking it to perfection.  How proud I was!

With my two American friends, we explained the concept and history of Thanksgiving; the tradition of watching football, the significance of "Black Friday," and most importantly, we reflected on the people, memories and places that we were thankful for.

Although it was my first Thanksgiving away from the States and without my family, it was perfect.  The menu consisted of a perfectly cooked turkey, mashed potatoes/gravy, sweet potato casserole, green bean casserole, pumpkin pie, cranberry relish and cranberry orange cookies.  I spent the entire day cooking and even prepped some dishes days ahead of time.  

Candles flickered all around the room and eager faces looked up as we carried in the dishes.  The energy in the room as everyone anticipated the meal warmed my heart.  Smiles lit every face and I received numerous 'thank yous' for all the effort I put into the dinner.  Too often we take holidays and time spent with friends and family for granted; no one did that night—and it was a good reminder that even the smallest of things should be celebrated.
Happy Thanksgiving, wherever you are in the world!
Dos Años
Exactly two years ago, this whole adventure began. It feels surreal, not only that two years later I'm STILL here, living out what was at once a mere dream, but that this even happened at all.
It's funny looking back on this post I wrote just before I was set to take off from the USA. When I had no idea what I was getting myself into, and had no idea that the few Spanish words I knew would be of no help to me in the upcoming months. It's been only two years, but I can see the naïveté shining through in my writing. I was so overcome with excitement at this huge leap of faith that I was taking that I didn't even consider the potential down days. I had no idea how uprooting my life and starting all over again—this time on the other side of the world, would change me as a person:
It made me realize that leaving to travel after graduating, instead of joining the rat race may have been one of the best decisions I've ever made.
It made me realize that if you have friends and family on the other side of the world willing to pay a pretty penny and spend hours upon hours in a plane just to see you, then you're a pretty damn lucky person.
It made me realize that living long-term in a different culture and language is hard, and it isn't for everyone. Whether I'm one of those people or not is still up for debate…but hey, I've lasted this long, haven't I?!
It made me realize that no matter how long I'm in Spain for, I'll always be homesick—for my loves ones, as well as for all of the trivial things like central heating and fresh milk.
It made me realize that the Spanish have got their sh*t figured out; with more agreeable work schedules, to a built-in daily nap-time, to longer vacations and a healthy appreciation of nightlife…they seriously have their priorities straight and this is a pretty amazing culture to be soaking up!
It made me realize that learning a second language opens so many doors, and allows you to connect with just that many more people in the world. If you've ever considered learning a new language, what's stopping you?!
It made me realize I am so freakin' LUCKY to have this life experience, even if it's not perfect…and to have people who've supported my crazy idea of moving to Spain from the beginning, even though they all really wish I'd come home already :)
It's been a difficult, beautiful, empowering experience. But I know my story isn't anything special. I know lots of people all over the world start over again in new lands with new customs. I know I'm not the only 20-something who struck out for adventure and ended up staying. So instead of rambling on about how hard life is without a clothes-dryer or central heating (kidding) I'll take you back through some of my favorite memories from the past two years:
Falling in love with Moorish Spain in Granada.
Exploring a completely different culture (Basque) in Bilbao.
Soaking up the sun in what would become a favorite beach-town; Nerja.
Making it to a city I always wanted to see in-person; Barcelona.
Admiring the Royal Garden in Madrid.
Discovering the old-world charm of Sevilla.
Exploring my own, new backyard.

So to my family and my friends, thank you for all of the weekend Skype sessions, care packages and trips to see me. Thank you for your support, your advice, and your love. You're the reason why I'm homesick :) And to you, my lovely readers of christineinspain.net, thank you for following along on my journey and offering your kind words throughout. Here's to the second blogversary to christineinspain.net and two year expatversary to me!
P.S. Are those even words?
P.P.S…Don't answer that.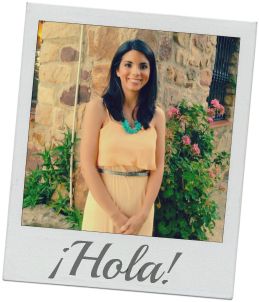 I'm Christine - a 25 year old American expat living la vida Española on the Mediterranean coast in Spain!