20 Things I've Learned About Spaniards
Toledo, Spain
I've spent enough time in Spain to say I've learned a thing or two about Spaniards. Obviously, I know Spain is full of all sorts of people (like anywhere else in the world) and this list isn't meant to be taken seriously in its generalizations. 
A Spanish mother will never let you go hungry. She'll also serve you generous portions at all meals. Generous is an understatement actually.
That zest for life they're so famous for? It's true.
The average Spaniard has a deeper appreciation of food and wine than the average person. I'm judging this by all of the food-related conversations I've had here with complete strangers.
Their overall sense of style is impeccable. You won't see them in the grocery store with sweatpants on like my fellow countrymen!
Though their English may be generally a bit worse than their fellow Europeans, they place a huge importance on learning it, which is very admirable.
They can take simple ingredients and make a killer meal from it. I'm looking at you, tortilla de patata!
They make excellent wine and (maybe because of this?) super-cute babies. 
For being as relaxed as they are about most things, don't make them wait in traffic unless you want to hear what the sound of way too many car-horns at once is like.
Though they will likely be late to tomar un café with you, they'll make it up by staying with you for as long as they can before heading back to work.
Their town ferias are very important to them. It's best to avoid scheduling anything important with anyone during these dates.
You will get scolded for not wearing shoes/slippers/sandals in the house. You're risking catching a cold after all!
You will discover their affinity for terrible napkins and cutting lines. *Side-eye at the old Señoras.*
If you're in a hurry, you will have to maneuver like a Formula1 driver around the abundance of slow walkers on the streets. 
Regional/provincial pride usually comes first. They're a feisty bunch! 
They love to mix their wine and beer with all sorts of things.
Their grandpas may be the cutest that exist in the world in their pressed slacks, sweaters, and caps. Can't forget the clasped hands behind the back too!
They have a certain way of making an everyday lunch feel special. Nothing is better than hours spent eating and chatting away at a Spanish table!
Their preferred dog is the Yorkie. I'm judging this by the overwhelmingly large ratio of Yorkies to other breeds I see daily.
They like their "erías" more than just a one-stop shop. If you want fruit, you go to the frutería. Meat? Carnicería! Bread? Panadería! Dessert? Pastelería! You get the idea.
What have you learned about Spaniards?
Why Being an Expat is The Best of Both Worlds
Even those who travel long-term, and are arguably, "living the dream", aren't free of complaints. They'll be the first to tell you that while life on the road is amazing, on some days, you just get tired of travel.
Flying high.
That's why I'm of the belief that expat life is simply the best of both worlds.
Though I've written before about the downfalls of being an expat, I do recognize that this lifestyle allows you to have your cake and eat it too. With your home-base located in the country of your choice, life in a new country and culture can have the same exciting benefits as a life of continuous travel, and then some.
A road to somewhere.
Expat Lifestyle Advantages:
Once you wade through visas and red-tape, you get to call a new place in the world home for as long as your heart desires. If it doesn't work, there's always your real home sweet home waiting for you.
Traveling in your new homeland is always an option, and exploring the surrounding countries are too!
There's time to settle in, learn the language and connect with locals.
You'll learn and celebrate new traditions, while teaching yours to others.
Long-term Travel Potential Pitfalls:
No place to call home.
Uncomfortable and frequent bus rides, plane rides, etc.
Packing, unpacking, re-packing. Repeat often.
No time to connect with the locals.
Constantly applying for visas, dealing with border policies and restrictions (here's to you, Schengen Union!)
Though I catch myself fantasizing about a RTW (round-the-world) trip, or becoming a digital nomad, being an expat in Spain suits me perfectly…for now.
Which lifestyle do you prefer? Continuous long-term traveler, or that of an expatriate?
Home.
I'm back in Spain after 3 short, but blissful weeks back home in the States. Though coming back to Spain is always difficult, I appreciate the perspective it gives me, and how it's made me value every second I spend with my family and friends.
Before this last trip, I hadn't been back to my homeland for a year. Going back was exactly what I needed to start the new year off fresh, as it was a completely relaxing, fun trip.
Here are the highlights of my trip back home:
Spending a week with my brother and sis-in-law in California, and meeting my furry niece; Izzy. Isn't she darling?!
Exploring parts of California I've never seen before. I'm looking at YOU Carmel and the 17-mile drive. Gorgeous.
Celebrating my birthday in my home country for the first time in 2 years. Did you read my birthday post?
Eating Japanese, Chinese, Moroccan, Mexican, Greek, Italian, and plenty of good ol' American cuisine in just a matter of a few weeks. Love you, America!
Celebrating my first Thanksgiving in the States in 2 years with my family. I savored EVERY delicious bite!
Not to mention…daddy-daughter time, mama-daughter dates, football, WINNING the Apple Cup, bonding with my brothers + their amazing ladies, showing the Vasco all sorts of American traditions, dinners with friends, shopping sprees (thank you, Euro-$ exchange rate!), trips to the dog park, getting Xmas decor for my Spanish apartment, peppermint white chocolate mochas, meeting my adorable baby cousin, cuddles with my kitty, BFF time, wine-tasting and feeling completely blessed.
Now, it's back to the Spanish lifestyle and getting into the Christmas spirit over here!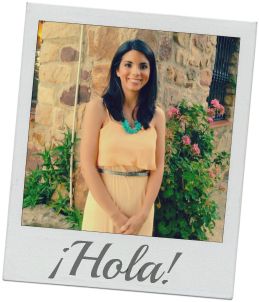 I'm Christine - a 25 year old American expat living la vida Española on the Mediterranean coast in Spain!