6 Pairs of Sandals Perfect for Summer Travel
In Athens, Greece. I opted for gladiator sandals, naturally!
Summer is upon us, and that means you've stored away your leather boots and closed-toe shoes and are pulling out your wedges, flip-flops and sandals.
When I travel, I don't like to sacrifice my style, but I do know the importance of being comfortable—especially on those hot, unforgiving days when you're walking a ton.The biggest dilemma for many female travelers is finding footwear that strikes a balance between stylish and practical.
My solution?
Sandals. You can trek all over the city in them during the day, and easily pair them with a gorgeous, flowy dress to go out at night. Here's six pairs I selected to inspire your suitcase:
Have a great weekend!
Airport Style
I believe that your personal style should never be sacrificed for an airplane ride. Whether I'm at the airport at 6AM or mid-day, I keep my sweatpants and slippers tucked away in my bag. However, I don't go to extremes, and the airport isn't my personal runway as it seems to be for some women (I will never understand wearing high-heels to get on a plane!).
I tend to meet in the middle between a comfortable and stylish ensemble. 
My key elements?
Layers, flats, a roomy bag, sunglasses, minimal jewelry and of course, my Kindle, which unfortunately needs a replacement (R.I.P.).
With Spring finally here, but temps all over the place here in Europe I'm opting for an outfit like the one above that will keep me warm, but can stand up to the heat (if I'm so lucky to find any in my upcoming trip to Lisbon!)
Need more airport style inspiration? Look no further than the stars themselves. Sure they have extensive wardrobes and stylists, but these looks can easily be recreated to fit your budget and ensure your still have money left over for cocktails and museum tickets!
Happy Friday! xx
(Images: Lauren Rosie Sara Miranda Jessica Minka Whitney Eva)
What I'd Wear: Casual City Sightseeing
I've been wanting to find a way to incorporate fashion into my seemingly 'Spain-only' blog. Those who know me can attest to my love of fashion, or at least, my inability to avoid sales at my favorite stores. This is another reason why expat lifestyle wins out for me—I get to have a closet! Albeit, a small European one.
So, I've started a new series: What I'd Wear, featuring outfits I'd choose depending on weather, location and activity, influenced by the fashion I'm exposed to here in Europe. Don't worry gentlemen, I haven't left you out! Here, I've put together two sets with a day of casual city sightseeing in mind, for both women AND men:
SHOP: Wildfox Couture long sleeve top, £105 Zara hooded coat, $100 H&m pants, £7.99 Dune over knee boots, £169 Studded bag, £10 COLLECTION XIIX fringe scarve, $38 Gucci oversized sunglasses, $275
When traveling, it's über-important to dress in layers, as you never know if the current weather conditions will change, while keeping in mind that you'll get warmed up from all of the walking around. These outfits have a temperature of the 50's-to low 60's (F) in mind, much like the winter here on the southern coast of Spain.
For women, I've chosen leggings as they're stretchy, comfortable yet still chic and don't take up a lot of room in your suitcase. This outfit in particular is all about comfort as I've chosen a soft, crew-neck, sweatshirt-inspired top and riding boots—perfect for a long day of walking. The hooded coat by Zara is one I actually own (in black) and provides just the right amount of warmth and slight protection from a rain shower, if need be.
Topped off by oversized sunglasses, a versatile print scarf and a messenger bag that you can store your valuables in and keep close to your body—we don't want any pockets picked here!

Charcoal Marl Zip Through Hoodie - Mens Hoodies & Zips - Clothing -… LIGHT GREY SNOOD - Scarves & Snoods - Accessories - TOPMAN, $32 RVCA Wrightwood Mens Trucker Hat, $20 ELIXIR Mustang Mens Flannel Shirt, $25 Adidas Ciero mid blk/wht/gum, £65 Burberry Men'S Black Chronograph Watch, $575 Dior Homme 19cm Carbon Copy Denim Jeans, €801 1STDIBS.COM - Lost City Arts - Pre Depression Humpback Porcelain NYC…
For the guys, I've gone with comfortable layers as well: a warm flannel shirt, an optional scarf and a hoodie if you get chilly. When traveling it's always crucial to keep a watch on you, so I've included this seriously stylish all-black watch by Burberry. Ignore some of the outrageous prices here and focus on the overall look. You can easily find a comparable pair of jeans for a LOT less, but with a similar cut and wash. 
A trucker's hat adds some interest to your look, and flatters most everyone, while casual Adidas sneakers are perfect for a day of non-stop action.
RECAP:
What: Casual and comfortable clothes for a day of sightseeing in the city.
Where: Where temps are similar to the southern coast of Spain, Northern California, and Greece. 50-60 F & 10-15 C.
When:  Winter.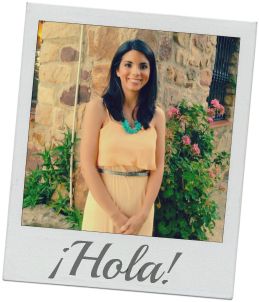 I'm Christine - a 25 year old American expat living la vida Española on the Mediterranean coast in Spain!