Where I Went in 2011
As the year wraps up, I'm looking back on how amazing it's been, and how lucky I feel to be enjoying these experiences. This year, though I added just one new country to my list, I added many new destinations and explored my adopted country even more thoroughly.
January
I started off 2011 fresh from a Christmas visit in my hometown of Seattle. I rang in the New Year in the gorgeous waterfront pueblo of Lekeitio in Basque Country and made several return trips throughout the year.
I also returned to Sevilla to explore and it grew on me even more.
February
A beach escape to Albuefeira, Portugal for a 3-day weekend convinced me that traveling in the off-season may be the way to go.
March
March was low-key, and I spent it exploring my own backyard; Tarifa, Spain.
April
In April, I returned to Granada, met my favorite Spanish footballer (Fernando Llorente!) and tried out an Arabic Spa for the first time. Sadly, Fernando was not present.
I also celebrated Semana Santa (Easter Week) in the Basque Country, where I dined at my favorite Basque chef's (Karlos Arguiñano) restaurant in the surfing town of Zarautz.
May
May marked the arrival of feria season in Spain. I went to Jerez de la Frontera for a gorgeous weekend of rebujitos, Andalusian horses, flamenco dresses and more!
June
June-August I severely slacked on blogging as I was busy entertaining visitors throughout the summer months. In June, I took a beautiful train-ride up north to Madrid to meet some friends, went back to Bilbao for a weekend, moved apartments and counted down the days until my family arrived!
Then, I went to Zahara de los Atunes for a weekend of beautiful beaches and al fresco dining.
July
July was a busy, busy, month of traveling all over Spain and France. After getting over a yucky stomach bug, I traveled (still not 100%) to sweltering Sevilla and caught a plane to Paris!
My week in France consisted of seeing the Jardin de Luxembourg, eating all the French pastries I could get my hands on, going to Versailles and soaking up everything Parisian!
Then, I went to Tarifa, Ronda, Marbella, Granada and Nerja before I packed up the car and road-tripped from Andalucía to País Vasco. Along the way I stopped in Consuegra and saw the famous Don Quijote windmills, took a day-trip to Toledo, stopped in Madrid and finally arrived for a week of enjoying Basque culture.
Once in Basque country, I went pintxo-hopping (txikiteo) in Donostia, sight-seeing in Guernica+Bilbao and drove up and down the curvy Costa Vasca until we got to France, making stops in St. Jean de Luz and Bayonne.
On the way back down south, we stopped for a few hours in Salamanca and made it back down to the Costa del Sol.
Phew!
August
August was a bit more relaxed, spent enjoying every minute with my family. We explored Tarifa and Sevilla together, as well as Vejer de la Frontera, a traditional Andalusian pueblo blanco.
September
Back to Basque Country I went, this time to attend my first-ever Basque wedding! It was a fun night filled with lots of food (9 courses!) drinks, and dancing! 
October
A car-load of friends and I went to Granada for Halloween weekend, exploring the tea rooms in the Moorish quarter and partying until (almost) sunrise!
November
November was a super exciting month for me as I was heading home(!) to celebrate turning 25 and being there for my first Thanksgiving in 2 years. I spent a week in San Francisco before driving up through Northern Cal and Oregon until Seattle.
December
This month brings trips to Bilbao and Madrid for Christmas and ringing in 2012 respectively.
What a beautiful year it's been!
My First Arabic Spa Experience
When traveling, I'm all for finding great deals without sacrificing the experience. And while I'm more of a hostel than luxury hotel kind-of-girl, I'll never pass up the opportunity to stay in one for free. Luckily, I was gifted a night in the Macia Real de la Alhambra; a modern 4-star hotel set in the foothills of the Sierra Nevada mountains in Granada. Not to mention, the best part of this particular gift included a few hours in the hotel's Arabic Spa the following morning.
So what's an Arabic Spa you say? Well, it features Arabic Baths, stemming from the Islamic tradition of public bath houses. Arabic baths feature traditional decor, and a variety of pools ranging from cold to warm to hot, in which they're used in a strict circuit. As Spain's history is deeply rooted in its Moorish past, ruins of Arabic Baths are rampant in southern Spain, and the area has seen a resurgence of these once highly popular, ritualistic pillars of social life as more and more hotels open Arabic-style spas. In the past, Arabic baths were a way to escape the hectic city life, congregate with members of the same sex and relax in quiet conversation. Today, their usage has moved from purposes of hygiene to make for a most luxurious experience:
Clutching my towel and stepping cautiously in my flip-flops, the massage therapist took me through the dimly lit corridors of the Arabic Baths. Candlelight flickering around me, with each squeaky step I took, the sound of water crashing against water grew more and more intense. We entered the main corridor which branched into different, secluded swimming areas. "You will follow a circuit of 15 minutes in each pool. First you'll step into the warm pool, followed by the hot pool and then the cold pool. After that, you'll…" Taking mental notes as she spoke rapidly in her native Spanish, I nodded in agreement and tried not to forget her instructions as I shed my towel and dipped into the first bath.
After staying out 'til 8AM the night before partying in Granada's newest club, Forum, (where the Spanish National Team was partying, and met my favorite player, Fernando Llorente!) I melted into the warm waters of the first bath—thankfully a great hangover cure. Then, on to the hot tub featuring massaging jets and a large waterfall intended for massaging the back, neck and shoulders. I was quickly reminded that the late night wasn't quite out of my system, and moved on to the cold pool. Though it was probably no colder than a normal outdoor swimming pool, after the contrast of the hot pool, it felt AMAZING.
After the circuit of different baths, I headed to a Turkish Bath, which is less bathing and more steam—hot, almost-suffocating steam, that opens your pores and does wonders for your skin. When I grew tired of the laborious breathing the Turkish Baths induced, the next part was an ice bath, or more aptly named rub-handfuls-of-ice-all-over-yourself-bath. I couldn't handle more than a minute of that icy ridiculousness (though admittedly refreshing) and made one last stop before my aromatherapy massage: the tearoom.
Sipping on Moroccan mint tea, lounging on intricately-patterned pillows, I realized I had been converted into an Arabic Spa fan—before my massage even happened! A few hours in an Arabic Spa make for a perfect morning of relaxation (or in my case, ease you out of your hangover!) and I love how it's done in a circuit. Packages at the Macia Real de la Alhambra start at 18€, or go through a company like HammamSpain.com, which features Arabic Baths all over southern Spain and Madrid. I highly recommend this traditional spa experience for anyone coming to southern Spain looking for an affordable and fun way to relax.
Have you ever had a unique spa experience either in your own country or in a foreign land? Tell me about it in the comment section below!
No, I was not the creepy girl with the camera in the baths, photos are courtesy of the Macía Real de la Alhambra website.
Where I'd Take a Visitor to in Andalucía, Spain
Despite it being January, I can't help but be SO excited about summer. My parents plan to spend a month here in Europe with me, my aunt is constantly checking flights, and my brothers and their significant others are throwing around dates and saving up vacation days. By the looks of it, I'll be having a steady stream of visitors, not to mention my friends who have already bought their plane tickets!
With the exception of my brother's lovely wife, none of them have stepped foot in Spain before. With all of their different itineraries lasting from a few days to a few weeks, these are a collection of my favorite spots I'll show them in Spain's south; and where you should map your itinerary if you plan on visiting Andalucía.
Tarifa
Countryside leading to Tarifa, and Morocco behind.
Tarifa goes from quiet coastal village to buzzing beach town as the weather heats up. As Spain's (and continental Europe's) southernmost city, Tarifa beckons kite-surfing aficionados chasing the notorious winds of the area, and sun-worshipers setting their sights on the long white stretches of sand. Tarifa also delivers views of Morocco, as Tangier sits directly across the Strait of Gibraltar, and is where the Mediterranean Sea and Atlantic Ocean meet. Go here, channel your inner Sarah Palin and say you "can see Russia Africa from your backyard."
Ronda
View of Old Town across the El Tajo Gorge in Ronda.
Ernest Hemingway was so in love with Ronda, he decided to call it home and penned his novel For Whom The Bell Tolls about it. Ronda is an enchanting hill-top town perched precariously atop the El Tajo gorge that plunges down, and is surrounded by valleys of olive groves and vineyards. It's the quintessential pueblo blanco of Andalucía.
Sevilla
Just thinking of Sevilla reminds me of its signature fragrance: orange blossoms permeating the air. Sevilla embraces all of the things that make Andalucía what it is: the bullfighting, the ferias, the sangría and the flamenco and they do so with absolute gusto.
Granada
View of the Moorish Quarter from the Alhambra Palace
Complimentary tapas, a heavy Moorish influence and a fascinating history all add to the allure of one of my favorite Spanish cities. Though the summers here are notoriously hot, it's still worth braving the high temps for the views of the Alhambra and Generalife Gardens alone.
Nerja
From the Balcony of Europe: Nerja
Northerners flock to the shores of Nerja for a sunny summer retreat. Picture secluded coves, white-sand beaches and whitewashed houses against the backdrop of the Mediterranean Sea and one can imagine the allure of this quaint seaside village.
Marbella
Marbella at sunset
Marbella may have a hedonistic reputation, but there is more to it than its glitzy veneer. The city's rich history as the result of being conquered by none less than the Phoenicians, Greeks, Romans and Arabs can be seen everywhere from crumbling castles in the casco antiguo (old town) to its mosques. Whether you come to partake in the excess of this elite resort town, or wander through its ancient streets you won't leave disappointed.

Cádiz
The Cathedral of Cádiz
Cádiz, despite being a major port city, manages to be a worthy destination
with a thriving café culture and history that goes back further than Jesus Himself. It is thought to be the oldest continuously inhabited city in Europe and was founded by the Phoenicians, and later thrived from an influx of riches from the New World. It also boasts mainland Spain's biggest Carnavale celebration, only steps behind Rio's.
Andalucía swoons visitors with its intriguing history and perpetual sunshine—and though I've yet to go—Cordoba, Arcos De La Frontera, and several more pueblos along the Costa de la Luz and Costa del Sol are soon to be added to my list of destinations after this sweeping tour of the South.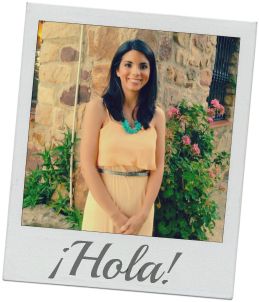 I'm Christine - a 25 year old American expat living la vida Española on the Mediterranean coast in Spain!