Santorini: The Stuff Dreams Are Made Of
Going through my Santorini pictures always makes me happy. I feel so blessed to have been able to visit this famous Greek isle, not once, not twice, but THREE times! It's truly a magical place, and even though it's overrun by cruise ship groups come high-season, I recommend it to everyone, as it's an island with something to please everyone.
Though Santorini promises to be an incredibly romantic island, it's also perfect for sun-worshippers and back-packers seeking beach parties by day, and dance clubs by night. Families, foodies, history-buffs and retirees will enjoy the island too—you just need to know in which area to stay according to your interests:
Fira is the center of Santorini's action. Though it can be touristy, you can find some excellent family-run hotels further back from the pricey caldera-view hotels. In 1956, there was a devastating earthquake that destroyed half of Fira town which has since been rebuilt. Stay here if you want the best of everything: a quiet place to sleep, excellent nightlife based in the Erythroú Stavroú central square and no shortage of restaurants (however with price tags to match this highly-trafficked area).
Akrotiri is the site of the Minoan ruins that the history-lover in me is fascinated by. The advanced Minoan civilization lived here on Santorini until 1450 B.C. (scholars debate exactly when) when the volcano exploded in one of history's most violent explosions ever. 
Present-day Akrotiri is located in a very peaceful part of the island, near the Red Beach (where the volcanic sand really is red!) and in an area where many locals live. Be sure to check locally if the ruins are open—they've been closed since 2005 when a roof collapse killed a tourist.
Oía is stunning. It's called the Paris of the Aegean and is famous for its must-see sunsets. This part of the island is perfect for couples on a romantic getaway and those seeking a peaceful, relaxing vacation. Even if you're not staying in this part of the island, take the bus out there and make time for the sunset—it's magical!
Kamari For families I recommend the resorts on Kamari. This area has access to the black volcano beaches, many Greek tavernas and isn't rowdy like Perissa and Fira can be.
Imerovigli is another quiet option which can be thought of as an extension of Fira. Its location offers lots of small hotels and apartments with caldera views, not to mention plenty of Greek Orthodox churches to explore by day.
Perissa is a backpacker's haven. Think cheap, clean hostels for as low as 10 Euros/night, a long strip of beach bars, restaurants and cafés and lots of sunburnt foreigners and young Greeks playing beach volleyball and sipping on cocktails in the sand. 
So now that you know where to stay in Santorini, here's what to expect: sheer beauty.
When I first traveled to Santorini in summer of 2008, I was floored by it. Perched precariously on dramatic cliffs overlooking the Aegean, words hardly do this place justice. It's on the top of many a bucket list for good reason and is easily one of the most stunning places I've ever seen.
During my visits to Santorini, I would get lost for hours wandering the streets of Fira, having long chats with friends over frappes and snapping away with my camera before hopping on my motorbike to the next part of the island.
See a peek of what I saw…
Hydra: A Traffic-Free Island in the Aegean Sea
Though back home in Seattle friends and family are still bundled up, here on the Mediterranean, it's already feeling like spring. These next few months are the perfect time to visit southern Europe: it's warm and mostly sunny, with lower airfare and fewer crowds than the high-season of July and August bring.
It's no secret that one of my absolute favorite places in the world is Greece. I studied there, have traveled there several times, and owe it (or maybe should blame it?) for my incessant wanderlust. From my various trips there, I've visited several of the Greek Islands—but in reality the number I've been to hardly scratches the surface as Greece is home to literally thousands of them!
It's difficult to choose a favorite, as they're all so different in their own ways, but one certainly stands out from the others on the uniqueness scale. That would be Hydra.
Hydra is a quick 35 miles from the port of Piraeus in Athens. I took the high-speed hydrofoil and was there in just over an hour. (Try this website for excellent, thorough information on the trip from Athens to Hydra.)
An artist's colony, Hydra is the perfect escape from the hustle and bustle of Athens. The peace and quiet found on Hydra is rare as the only transportation you'll see are donkeys, garbage trucks and emergency vehicles—cars and even bikes are prohibited!
As you enter the port, you'll be dropped off in the heart of Hydra Town. Built in a amphitheatrical style, rows of Venetian-style stone mansions overlook the harbor, built by wealthy merchants who benefitted from Hydra's highly successful foreign exports business of the past.
This grand entrance is framed by the mostly dry, uninhabited remainder of the island: an ancient fire destroyed the island's once-pure drinking water that Hydra gets its name from.
Though the island's beaches are nothing to write home about, Hydra is perfect for exploring on foot—by means of the donkey paths, since roads don't exist. In fact, don't get too excited about sunbathing on Hydra at all—I did and was met with slabs of concrete and rocky beaches!
I also mistakenly looked forward to the nightlife on Hydra and was a bit disappointed: it's definitely a romantic, honeymooner's island.
Once you have this figured out—enjoy the breathtakingly beautiful surroundings that Hydra most definitely doesn't skimp on:
Have you ever been to Hydra? If not, do you want to?
A Favorite Vacation Destination: Athens, Greece
Since I studied in Athens in the summer of 2008, it has always held a special place in my heart. There, among ancient ruins, incredible food, and friendly locals, I found a destination that would quickly rise to being one of my most favorite places in the world.
Whenever a friend tells me they're planning a trip to Greece, I become so excited for them, hoping they'll fall in love with the country the way I did. Hoping their experience will be just as enlightening and unforgettable. Then, I proceed to give them all of the information they need to ensure it's an amazing trip.
This is what I tell them:
Give Athens a chance.
Athens is chaotic, scorching hot in the summer, and congested with people. Go anyway. Take your time exploring the city, and you'll unearth an Athens that speaks to its grandiose past. A city that manages to effortlessly balance modernity without forgetting its rich ancient history. Explore posh Kolonaki, chill Monostiraki and hip Gazi.
Eat your heart out.
The Mediterranean diet is said to be on of the healthiest in the world, and within the Med, Greek cuisine tops all for healthiest, and dare I say, most delicious. I've never eaten at a restaurant I didn't like in Athens, nor had I plate I turned my nose up at—the food is seriously that good! Some favorite include:
Café Abysinia | www.avissinia.gr | Kynnétou 7, Platía Avyssinías
Go here for a modern interpretation of traditional Greek cooking.
Palia Taverna Tou Psarra | www.psaras-taverna.gr | Erekthéos 16 at Erotókritou
Set in an old restored mansion, this is a classic Greek taverna, known for it's large array of mezédhes (like Greek tapas!) and seafood.
Chocolat Café | Apostólou Pávlou, 27
A glamorous, pricey café with stunning view of the Acropolis from its rooftop terrace. Order the strawberry cheesecake and thank me later. ;)
Don't leave without experiencing Greek nightlife.
Whether you drink or not, party or not, a trip to Greece isn't complete until you've stayed out until the wee hours of the morning taking sips of ouzo with locals. From daytime beach clubs, to chic bars, and traditional Greek cafés, Athens offers something for everyone and every (legal) age.
Don't let the riots of recent years scare you off.
Every time I've been to Greece (now 3 times), there have been riots. As evidenced from the photo above, I've even sought them out (sorry, Mom!) as the inquiring journalist in me wanted to see if they were being accurately portrayed in the media. However, I didn't go to the heart of where car-bombs were being set off, rather I found out where a peaceful protest was and watched from a safe distance there.
With Greece being as unstable as it is economically, the riots won't be going away anytime soon. Avoid them and you'll be fine, and the Greek people will welcome you with open arms to their country, thankful that you didn't let the media keep you from visiting their beautiful country.
Read up on your history before coming to Athens.
You're about to be surrounded by so much history, it's mind-boggling. Enjoy the experience for all it's worth by reading up on your Ancient Greek history a bit before coming out to the ruins, and appreciate it all that much more.
Escape the city!
You didn't know Athens has beaches? Well, it does. It's officially a city that has it all, so take advantage and head down the coast or hop a ferry to one of the islands. This is an absolute must.
Have you ever been to Athens, Greece? What are your tips?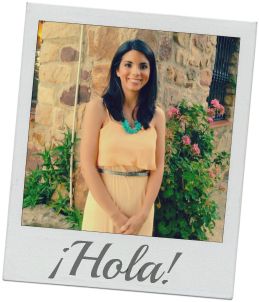 I'm Christine - a 25 year old American expat living la vida Española on the Mediterranean coast in Spain!