An Evolving Passion: One Girl's Relationship with Spanish Food
I'm so happy to have Lauren of Spanish Sabores guest posting today! Though we've known each other in the wonderful world of travel blogging for a while, we just recently met up in Madrid. I'm so impressed by her entrepreneurial spirit (check out her food tour in Madrid!) and absolutely love her food posts over on her blog, so I asked her to write about where it all began: her relationship with la comida Española, that is! Make sure to pop over to her site Teach and Travel to check out a piece I did on three pueblos blancos I adore.
"It's nothing special…"
 That is what I would have said if you had asked me about Spanish cuisine six years ago. I was seriously mistaken and quite naïve—to be blamed in part on a penny pinching Spanish host mother and the free, but often mediocre, tapa culture of Granada. I would never have thought that only six years later I would be earning a living giving food tours and writing about authentic Spanish cuisine.
When I first came to Granada, Spain in 2007 to study Spanish, I lived with a retired couple— Miguel and Josefina. Miguel had a mild form of dementia and didn't talk very much; he mostly just watched football and occasionally asked me if I liked what we were eating. Josefina was the family's sole provider, and at 67 years old she was able to make some sort of living by hosting exchange students. I arrived starry eyed, expecting a loving Spanish mother figure, but instead I met business minded Josefina. It was her seventeenth year hosting students, and it really was her business.
 I didn't really mind; I went out a lot and loved the apartment's location. But for learning about Spanish food, Josefina's house was not the right place! Despite claiming to have owned a small restaurant in her younger years, Josefina was a pretty awful cook—when she cooked at all! Mostly, she fed me frozen foods or typical inexpensive Spanish dishes. There was arroz a la cubana (white rice, tomato sauce and a fried egg), ensalada de arroz (a cold rice salad with frozen vegetables, tuna, olive oil and vinegar), and tortilla a la francesa (a boring, dry omelet with absolutely no toppings or seasoning). Sounds great right? In fact, during the entire four months that I lived there I was only served meat once (if you don't count the frozen fried concoctions) and by the end I had lost about 10 pounds!
Image found here. 
I couldn't complain because I was in Granada—the city of free tapas and cheap kebabs. I survived quite nicely on croissants, small beers and free tapas, and lamb kebabs, and I actually quite enjoyed that diet at the time. I was convinced that Spanish food was not much more than cheese, olives, ham and eggs (all of which are indeed important Spanish ingredients) and rarely ate out at a restaurant to be able to know any differently—I was on a student budget after all!
Toward the end of my four-month stay I remember visiting Madrid. My friend and I decided to splurge on a nice restaurant recommended in our guidebook. I was dying for a steak—any cut would do. We analyzed the menu, her Spanish better than mine, but couldn't find the word we'd learned for steak—bistec. So we settled on other options, only to quickly observe everyone around us diving in to their big, juicy steaks. We learned a valuable (albeit disappointing) vocabulary lesson that night; bistec means steak in much of Latin America, but in Spain people use other vocabulary.
So after four months in Spain I headed home, largely unimpressed with Spanish food and confused about why I kept on hearing that Spain had "the best restaurants in the world". Oh, if I only knew!
I moved to Seville two years later, and was, gastronomically, at a completely different point in my life. I had since discovered a love of wine in Argentina and taken various wine courses as a part of my degree in tourism. I'd also worked in some of the best Massachusetts restaurants and country clubs where the chefs imparted upon me their love of the kitchen— so much, in fact, that I had to make the difficult decision between culinary school and moving to Spain. It was a tough choice, but Spain was a much more economical decision at the time.
The night I met my husband I was only one week into my new Spanish life in Seville. I told him that Spanish food was boring. He looked at me, confused. He didn't defend his cuisine, instead he just told me to wait. He ordered some tapas at the restaurant where we were having a drink. It was a simple tapas bar, but it was where I woke up to the reality of the quality of Spanish cuisine.
Three years later food is an enormous part of my life. I am constantly trying new dishes and restaurants in search of exciting combinations or simply well done traditional food. I now believe that Spain offers one of the most exciting, high quality, and healthy cuisines in the entire world. It just takes some time to try things and find out what you like.
Here are some of my favorite Spanish foods that I had never tried in the US. If you get the chance, please try them—they might just change your life!
Pulpo al Gallego: Galician style octopus is thinly sliced and served with smoked Spanish paprika, sea salt and extra virgin olive oil.
Boquerones en Vinagre: Anchovy fillets that are cured in a vinegar marinade.
Salmorejo: A creamy cold tomato soup made of tomatoes, hard-boiled egg, stale bread, and olive oil. Served with diced Serrano ham on top.
Huevos Rotos: Soft-boiled eggs served on top of homemade French fries with choice of Serrano ham, chorizo, morcilla (blood sausage), vegetables, etc.
Croquetas de Boletus: Crispy fried mushroom and béchamel fritters.
Langostinos Tigres a la Plancha: Delicious jumbo prawns sprinkled with sea salt and grilled, served whole in their shell. 
At this point, I still fantasize about going to culinary school and being the next Ferran Adria, but I make due with being a decent home cook instead. Yet I try to transmit my love for the Spanish kitchen through my writing and now with my food tours in Madrid. Basically, I don't want other people to ever endure four months thinking that Spain is nothing more than olives, cheese, and free tapas. Spanish food is fresh, diverse and delicious, and Spain is an essential travel destination for anyone who loves food.
Lauren Aloise is the founder of Madrid Food Tour. An optimistic entrepreneur and self-proclaimed professional tapa taster, shewrites,tweets, andcooks out of her tiny Madrileño apartment.
Guest Post: Viaja por España este Verano, y Descubre Tu Propio País
Dream of traveling to Spain this summer? Read below for a guest post describing the different colors that represent the varied landscapes and regions of Spain and start planning your getaway! This post has been made possible by a third party.
Los sueños se cumplen, pero para que se cumplan es imprescindible querer hacerlos realidad. Viajar, equivale a ver cumplido un sueño y quizá sea el momento de dejar a un lado la imaginación y plantar cara a la realidad. Este año sí nos podemos permitir unas vacaciones de ensueño. Coge un calendario, tacha los días que te quieres regalar para vivir tu sueño, elige tu destino y ponte a buscar la forma más económica de llevar a cabo tu plan.
Se nos presentan tantas alternativas como colores tiene el arcoíris. Esta vez, vamos a elegir como punto de mira España. Nuestro país se caracteriza por ser una de las tierras europeas con mayor diversidad paisajística y cultural de Europa, y quizá también por ser una de las más desconocidas por nosotros mismos. De Norte a Sur y de Este a Oeste el abanico de destinos idílicos se nos presenta como una explosión de colores.
Empecemos por el color rojo, color de la pasión y de la fuerza, ése es el que nos invita a pensar en la belleza de Andalucía. Desde Sevilla, con su Giralda esperando y ese barrio de Triana cantando a las noches serenas y mágicas, hasta Córdoba con sus hermosos Patios de la Judería, y su Mezquita mirando serena el correr del tiempo; pasando por Granada y su Alhambra que se levanta con señorío ante una de las ciudades más bellas de España. Y mientras el viajero camina tranquilo descubriendo uno de los pasados históricos más hermosos de España, los hoteles con encanto lo esperan para que en su descanso pueda seguir viajando a través de sus interiores a ese pasado árabe-español que sigue vibrando en la hermosa Andalucía. Si te decantas por las capitales andaluzas, en cadenas hoteleras como Barceló tendrás más de 15 destinos y ofertas para elegir, como el maravilloso hotel Renacimiento de Sevilla.
El color azul, es otra maravillosa opción. Sigamos el recorrido por la costa Andaluza. Desde Cádiz hasta Huelva, con sus hermosas playas, y la alegría de sus gentes que hace sentir a visitante que cada día la vida es un poco más bonita. Hacemos una parada en Málaga donde las noches se vuelven magia. ¿Y por qué no acercarnos a la Costa Cálida o a la Costa Brava? Un poquito más alejadas de Andalucía y ambas a la misma distancia de un cielo azul y lleno de calma. Al lado de cada uno de estos mares, el viajero tiene la opción de disfrutar de los resorts más lujosos donde las noches más estrelladas del año recuerdan al viajero que nada es un sueño, sino una sorprendente realidad. Descansa al rumor del mar en los resorts de Iberostar.
El verde se queda para el Norte de nuestro de País. Desde Asturias con sus montes vírgenes, en su mayoría declarados reserva de la biosfera, su señorial capital, Oviedo, donde la regenta aún parece estar paseándose por sus calles; hasta Gijón o la zona de Llanes donde la mar salvaje se acuna entre los hoteles que preservan su cultura tradicional celta y regalan pura hospitalidad y confort a sus viajeros. El verde País Vasco, que se debate entre las costas Vizcaínas y Guipuzcoanas, una tierra de gentes amables y cuna de los mejores cocineros de España y Europa, la alta calidad de vida de esta tierra sorprenderá cada día a ese viajero sediento de cultura y tradiciones ancestrales. Hemos de tener en mente también a Galicia. Desde Santiago de Compostela con su impresionante catedral, hasta A Coruña o Vigo con sus puertos de mar que regalan los mejores mariscos de nuestra tierra y Ourense o Lugo donde aún quedan demasiados rincones vírgenes por descubrir.
Acabamos con el blanco, color típico de las Islas Baleares. Desde la gran Mallorca con sus ruinas romanas de Alcudia y su espectacular catedral, Menorca y su colección de talayots, taulas y navetas prehistóricas, pasando por la mundialmente conocida Ibiza cuyo pasado hippie ha dado paso a las más exclusivas fiestas y Formentera, isla de paz y luz, que se presenta paradisiaca con sus pinos mediterráneos y sus palmeras africanas. Descubre el encanto de las islas gracias a las ofertas en vuelos y codigos eDreams.
Viajar por España equivale a descubrir cientos de países dentro de uno solo. Riqueza gastronómica, tesoros culturales sin descubrir, paraísos naturales completamente vírgenes y un sol radiante.
Guest Post—Benidorm: Not Just Mobility Scooters!
Benidorm. Wait! Don't judge a book by its well-publicised cover. Thanks to the popular ITV show, this Costa Blanca resort has been given a slightly wronged name. Yes, it's brash, at times it can be a little tacky, but it's also full of beautiful beaches, with a year round mild climate and boasts a huge range of activities. 
The famous high-rise skyline is the postcard picture of Benidorm. Despite a reputation of being all about the older generation, this famous resort has undergone something of a regeneration over recent years and now plays host to all age groups, and an increasing amount of families every summer. Fiestas are a huge pull, with many tourists grabbing the castanets and partying with the locals in a celebration of Spanish heritage, with a little flamenco thrown in for good measure. 
Benidorm can be reached relatively cheaply from UK airports. In these days of belt-tightening, any opportunity to save money is welcome, and Gatwick parking is a convenient way to save time and money, with great rates available all year round. Most regional airports offer holiday extras, including Airport parking, with frequent shuttles direct to the terminal, perfect when you have tired kids in tow. 
Benidorm boasts two large Blue Flag beaches, Poniente and Levante. To chill out and avoid the crowds, head to Poniente. For the popular beach, Levante is your destination. Water sports, jet skiing, paragliding, scuba diving and even reading daily newspapers at the Biblioplaya, are on offer on this vibrant beach, with a long promenade, perfect for gentle strolls and people watching. 
If the beach doesn't offer enough splash for the kids, Aqualandia is the resident water park and at just around 100€ for a family of four, it's an affordable and fun way to cool off. Another popular park is Mundomar with sea lion shows and a large aquarium. 
If action is your cup of tea, Benidorm has a surprising number of activities to meet your tastes. Paintballing is a fun and exhilarating way to burn off extra energy, meaning a good night's sleep for mum and dad! If that doesn't do it, then mountain biking is worth a try, or head into the mountains on a jeep safari, taking in stunning scenery and wildlife. A popular stop is Fuentes Del Algar, the famous waterfalls, as seen on the TV show. Admission is usually included in the price of your jeep safari, a bargain when taking in such beautiful visions of nature. See, I told you Benidorm wasn't all about mobility scooters!
If relaxation is on your list, the resort boasts golf courses and several pretty parks for chilling out and soaking up the sun. The Old Town is certainly a must visit, with its cobbled, winding streets and calm atmosphere. This part of town has certainly retained its old Spanish charm with white-washed houses and small churches. 
When the sun sets, Benidorm's famous cabaret comes alive. There are many nightclubs, bars and discos around the town, many in Levante, but for the ultimate Benidorm experience, head to Rincon de Loix and the Benidorm Palace. Here you will see sequins, feathers, tricks and singers, all in a Las Vegas-style show, done in a way only Benidorm knows how. No trip is complete without a visit. 
With eating out, shopping and entertainment relatively cheap in this popular resort, it's no surprise that couples, families and singles are flocking to the Costa Blanca sun. Book your airport parking through airparks to save even more money and guarantee your summer holiday won't break the bank.
Disclosure: This post was made possible by Airparks.co.uk.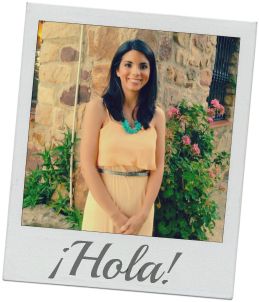 I'm Christine - a 25 year old American expat living la vida Española on the Mediterranean coast in Spain!