Hiking to Morocco?
In the remaining days of winter last weekend, the sun shone brightly, the beachfront promenade was packed with people, and a few brave souls were already dunking themselves into the Mediterranean.
I'm all for staycations and exploring locally so I don't have to worry about things like backpacker insurance and what to wear to the airport. So, I set off into the sunshine, and I opted to hike to Punta Carnero, a picturesque point with a lighthouse that I've heard locals talk up excitedly, but a local attraction I'd never made it to.  
At a mere 15km, Punta Carnero is the narrowest point between Europe and Africa. Making it to the end of the hike meant to be rewarded with panoramic views of the Strait of Gibraltar: watching the ships chug along in waters composed of the Mediterranean and Atlantic, birds circling overhead, and marveling at the fact that Morocco seemed only a stone's throw away.
The vast continent of Africa spread out before my eyes. My feet planted firmly in the soil of a first world country, my mind absorbing that the land laid out before me is in many ways, so different from where I stood.
Here's what I saw:
Coastline hiking!
Poppies
El Faro (The Lighthouse)
Signs of Spring :)
The lighthouse with Morocco/Ceuta in the back
Hiking through countryside 
Gibraltar
More flowers!
That's Morocco behind the tree!
Disclosure: This post was made possible by moneysupermarket.com
Travel Photography Obsession: Doors
When I was a little girl, trips to my grandparent's house always meant I would get to snoop through my grandma's things. She kept pictures of my mom, aunts and uncle from their childhood, photos from her WWII-era Sydney wedding, typewriters, old records, even her stylish vintage wardrobe. I would uncover dusty boxes, peek through closets, ask a million questions and somehow she never seemed to mind.
By nature, I'm a curious person and this hasn't changed as I've grown older. That's why travel is such a passion of mine. Except now my 'discoveries' have evolved from grandma's old treasures to the beauty of UNESCO heritage sites, the history of ancient Greek and Roman ruins and the deliciousness of a bottle of vino tinto from La Rioja in Spain. The simplest things can set off my curiosity however, and the same object seems to always show up in my photos of places I've been. What is it? Photos of doors.
Doors have many metaphorical meanings. They can signify promise, adventure, closure, and intrigue. They are our small, personal gateways to the world. For these reasons, whenever I'm exploring a new place, I'm drawn to doors. Not only do they often make for a beautiful photo, but they present to me more than an entrance. They are as curiosity-inducing as they are unwelcoming, and as come-hither as they are cold.
"When one door shuts, another door opens" we're often told. And though the door to my grandma's closet is now shut as she rests in peace, I've unlocked the door to the world and am happily exploring it:
Asilah, Morocco
Mykonos, Greece
Mykonos, Greece
Hydra, Greece
Mykonos, Greece
Mykonos, Greece
Ios, Greece
Sevilla, Spain
Albufeira, Portugal
Hydra, Greece
Tarifa, Spain
Oia, Greece
Albufeira, Portugal
—-
Even doorways are appealing to me…
Tarifa, Spain
Thira, Greece
Granada, Spain
Sevilla, Spain
And I love intricate details…
Tarifa, Spain
Athens, Greece
Sevilla, Spain
What's your travel photography obsession?
لمملكة المغربية
Across the Strait of Gibraltar and approximately 20 miles by ferry from where I live is Morocco. Before going I was told by nearly everyone I encountered: "be careful there, it's not safe for women", "make sure you stay in by sundown and go out in the day in groups", "dress very, very conservatively" and "be prepared for a very different culture." The truth is, nothing prepares you for Morocco unlike a first-hand experience.
Morocco conjures in many minds images of exotic people, warm spices, colorful fabrics, hypnotizing music…every element of a rich culture. What you may not think of when you hear the name "Morocco" however, is the other side of the coin. The poverty. The filth. The crippled people left to fend for themselves on the streets. The 4 year-olds begging for a meal. The feeling as a woman that you are an object to be stared, yelled and whistled at and not a human being with thoughts and emotions.
Thousands of tourists descend upon Tangier, a main port city of Morocco, every year. They stay in the same ritzy resorts, and sign up for the same safe tours entrusting a guide to carefully and strategically take them through the nicer parts of town. I know this only from comparing my time exploring the city alone with EJ and Kristin, and comparing it to the tour group we traveled with the following day. When the 3 of us ventured out to explore the Medina, or "old city" by ourselves, we witnessed a completely different Morocco than on the second day when we traveled with a bus full of Spaniards to the quaint beach town of Asilah, touristy camel rides, and the beautiful spot where the Atlantic and Mediterranean meet. Alone we experienced Morocco for what it was. More gritty? Yes. Less beautiful than the white-washed houses and stretches of coastline? Not exactly.
As a young woman traveling for the first time to a Muslim country, I knew I had to expect cultural differences. One doesn't travel to Morocco expecting to party. Morocco offers a much deeper experience, but only to the open-minded traveler, which for me resulted in something so eye-opening, and a lot of time to reflect upon the things for which I am grateful. I realized I have taken the most simple things for granted: food, water, shelter, clothing. All of my worries seem insignificant and petty when my most basic needs are met.
A boy, no more than 5 years old begged us for food as the bus dropped us off one evening. The 3 of us gave him bread and the smile on his face after receiving the most simple of necessities has stayed with me. Whenever I feel like complaining about my life circumstances, I hope I'll see his face and remember my blessings. More importantly as I discover what I'm meant to do with my degree and education, I want to remember how it felt to make the smallest of differences in one life. Yes, all we did was hand over a piece of bread. We didn't create miracles. But for the shortest moment regardless of where we came from, and where the little boy came from, despite our language barriers, religious differences, and socioeconomic backgrounds, we were just people who happened to be in the same place at the same time, sharing much more than a simple piece of bread with one another.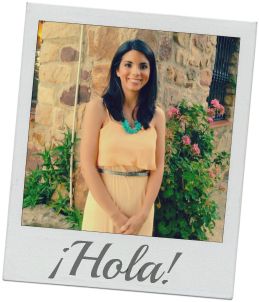 I'm Christine - a 25 year old American expat living la vida Española on the Mediterranean coast in Spain!