Scenes from Conil de la Frontera, Cádiz
A visual voyage through the white-washed walls and golden beaches of Conil de la Frontera:
Playa de los Bateles, studded with beach umbrellas in the middle of a hot afternoon.
An artisan market, offering up handmade jewelry, clothing, and more on the beach promenade.
Fresh squeezed orange juice, café con leche and pan con tomate=the breakfast of champions.
La Iglesia de Santa Catalina, built in 1411 onto what was once a mosque.
Though I opted to rent an apartment in Conil, the next time I go, I'll seriously consider camping in Conil because the campsite is close to here. Looks divine, doesn't it?
Summertime= al fresco dining.
Atlantic foam+golden sand
The streets of Conil—offering refuge from the heat amongst their shady twists and turns.
Come back for part 2 of scenes from Conil tomorrow! And while you're at it, check out my first piece over at The Cultureist on ventas in Spain.
Travel Photo Editing For Absolute Beginners
My photos of the places I've traveled to will always remain among my most treasured souvenirs of a place. They're unique to me, as the photos reflect the places and people I've seen through my eye alone. When I get home, I'm excited to go through them, and hand-pick the shots I want to edit. This process of looking back on them never fails to bring me right back to the moment I took the shot; it's an amazing way to relive a memory you're not sure you're going to have again.
I don't claim to be an expert photographer, au contraire, I'm still learning LOTS about photography. However, I do have the basics down, and I think if you own a camera, whether it be a DSLR or a point-and-shoot, you should know the basics of editing your photos.
Here's what you need to do:
First, arm yourself with photo editing software. For beginners I'd recommend starting with free software like Picasa, PicMonkey or Aviary before investing in more advanced programs like Adobe Lightroom or Photoshop.
Next, put the software to use and start making basic fixes. Let's start with Auto Levels/Auto Color. A quick click of the mouse can warm up or cool down your image, slightly enhancing it for an overall more appealing look.
Also play around with Hue/Saturation. Saturation will inject more color into the image and hue will change the color. In the image above, I hit the Auto Adjust button, which is an overall fix to the image, and upped the saturation. Talk about quick fix!
Another simple way to take your photo from drab to fab is to play with Brightness/Contrast settings. A lot of beginners' photos straight out of the camera will be underexposed and dull. Play around with exposure and liven up your image!
The more photos you take, the more your eye for framing and composition will develop.However, sometimes we just don't get it right when we take the picture, so that's when Cropping/Rotating will be of use. What should you crop out of photos? Anything that is distracting from the focus of the image. 
I made just a slight crop on this image because the person on the right is distracting.
Though these techniques are basic, if you employ these slight alterations to your photos, you'll have something to look back on that you'll be proud of long after your vacation is over.
Happy Friday! Here's a peek of my life lately though Instagram. Click on the link for the first week, which I did awhile back. Click on the photos above to see them enlarged+captions.
I'm off today on a road trip through the entirety of Spain from south to north (Andalucía to País Vasco!). It seems in Spain we can't go a couple of weeks without having an extended weekend, or some holiday—but, I'm not complaining!
I won't be posting here on the blog until late next week, so in the meantime, follow my road-trip on my Facebook fan page or over on Twitter!
Have a wonderful weekend!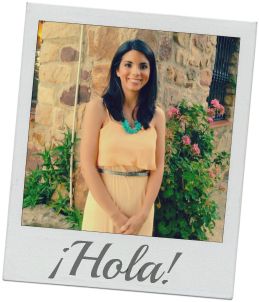 I'm Christine - a 25 year old American expat living la vida Española on the Mediterranean coast in Spain!