Bilbao's Best Pintxo
There's a Basque saying that succiently sums up the culture:
Nola jan jakitea, nahikoa jakitea da.

To know how to eat is to know enough.

If you've ever been to Basque Country, or met a Basque person, chances are, you've discovered they're super passionate about food. Everyone's a foodie. Conversations about food come up regularly, and social gatherings aren't complete without an array of pintxos (the Basque bigger-and-better version of tapas) within close grasp.
When I head to Bilbao, I make a bee-line for Café Iruña.
When you walk through the door of this ample space, an establishment of over 100 years old, you'll notice it's tiled wall-to-wall with gorgeous tile-work of surprisingly (very non-Basque) sherry from Jerez.
Though it's beautiful, your attention (and sense of smell) will soon guide you to the corner where you'll find someone manning the grill, underneath a sign that claims these are the best pintxos of their kind the whole world over. How very Basque to make a claim like that!
But, as exaggerated as the Basques may be, they're not kidding around when they're talking about this pintxo. Called the Pincho Moruno, it's a perfectly seasoned, perfectly tender lamb kebab, grilled to, well, perfection!
I take all of my guests here. And if you're ever in Bilbao, take yourself to Café Iruña (Calle Berástegui 4), order the Pincho Moruno and thank me later.
(My 2nd place pinxto award goes to the grilled and seasoned mushrooms at Bar Motrikes (Somera 41) in the Casco Viejo. You're welcome!)
Dreaming of Donostia
As the air cools down to something pleasant rather than stifling, the swimming pools close down, and the beaches empty out, I start missing summer. Not the uncomfortable, humid summer I found here in on the coast in Andalucía, but rather the warm, breezy, beautiful weather I found in the north.
Not every day was pleasant, but on those days when the sun came out it was perfection.
Just like my hometown of Seattle.
I had one of those perfect summery days during a trip with my family to Basque Country's gorgeous resort city; San Sebastián (or Donostia in Basque.)
The water reflected the same azure blue of the sky, the city was buzzing with people out sun-bathing and strolling…it was one of those days I was reminded why San Sebastián always calls me back.
It was one of those days I never wanted to see the end of:
Yes, the water was really that blue. And ombre.
After pintxo-hopping and showing them around this Parisian inspired city, we headed back to the beachfront promenade just in time for sunset:
When is the last time you've had a perfect day? Tell me in the comments below!
Pintxo-Tasting in San Sebastián
Pintxos (peen-chohs), the Basque word for tapas, are small portions of food set up on the bar for purchase to accompany your drink. How do they differ from tapas? Well, they don't really. Pintxos typically are speared with a toothpick atop a small piece of bread and tapas are more likely to be served on small plates, but with the ever-inventive Basque cuisine, tradition isn't always adhered to. Also, tapas are free in some parts of Spain with the purchase of a drink (though this is the exception), and pintxos are always paid for.
Txikiteo (chih-kee-tay-oh) is at the heart of Basque culture, but what does it mean? It's the Basque word for bar-hopping, enjoying a pintxo and glass of txakoli (or whatever floats your boat) at each place before moving on to the next. On weekends, txikiteo starts around noon and goes well into the evening when the pintxos are pulled and replaced by cold glasses of kalimotxo.
This summer I spent showing my family a grand tour of Spain, from south to north and back. One of the days we headed to a city near and dear to my heart, simply because it's gorgeous and I really wished I lived there; San Sebastián. If you've ever heard of San Sebastián, chances are the person telling you about this city said in the same breath: "and the food is incredible!".
Boasting the 2nd most Michelin-starred restaurants in the world (fourteen!), it's no wonder that San Sebastián is a foodie's dream destination. But, you don't have to be a foodie to appreciate the pintxos.
There's no shortage of pintxo bars in San Sebastián, and since they're regarded as some of Basque Country's best, you're really spoilt for choice. Like any cultural thing, there's etiquette to be followed, so here's a quick lesson:
The best times to txikiteo are from noon-2pm and from 8pm-11:30pm. This is when everyone goes, so the supply is never stale or lacking.
Never leave your dirty napkins/toothpicks on the table or bar. It's rude. Instead, drop them on the floor, like everyone else does.
Speak confidently and clearly to the bartender. You're contending with locals here, and if you don't approach the bartender in the right way, he/she won't notice you and you won't be served. So use your outside voice! :)
You may have to get the bartender's attention to be served drinks, but selecting pintxos is up to you—unless of course it involves raw meat that the kitchen needs to cook for you, or hot pintxos that require warming up. Many pintxos, (like those pictured) are cold however, and you can serve yourself. Keep track of how many you and your amigos have eaten as you'll be expected to give a full tally to the bartender when you're ready to play. This is an honor system, so don't be a jackass.
An "eskerrik asko" (thank you) will get you more smiles than a "gracias".
The Old Town of San Sebastián is ideal for pintxo-hopping as there's a high concentration of bars there. I recommend starting at either C/ Fermín Calbetón or C/ 31 de Agosto, my go-to areas.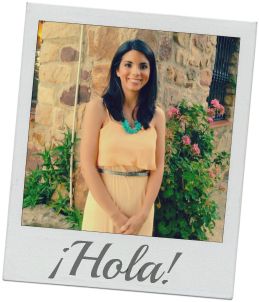 I'm Christine - a 25 year old American expat living la vida Española on the Mediterranean coast in Spain!