Where I Went in 2011
As the year wraps up, I'm looking back on how amazing it's been, and how lucky I feel to be enjoying these experiences. This year, though I added just one new country to my list, I added many new destinations and explored my adopted country even more thoroughly.
January
I started off 2011 fresh from a Christmas visit in my hometown of Seattle. I rang in the New Year in the gorgeous waterfront pueblo of Lekeitio in Basque Country and made several return trips throughout the year.
I also returned to Sevilla to explore and it grew on me even more.
February
A beach escape to Albuefeira, Portugal for a 3-day weekend convinced me that traveling in the off-season may be the way to go.
March
March was low-key, and I spent it exploring my own backyard; Tarifa, Spain.
April
In April, I returned to Granada, met my favorite Spanish footballer (Fernando Llorente!) and tried out an Arabic Spa for the first time. Sadly, Fernando was not present.
I also celebrated Semana Santa (Easter Week) in the Basque Country, where I dined at my favorite Basque chef's (Karlos Arguiñano) restaurant in the surfing town of Zarautz.
May
May marked the arrival of feria season in Spain. I went to Jerez de la Frontera for a gorgeous weekend of rebujitos, Andalusian horses, flamenco dresses and more!
June
June-August I severely slacked on blogging as I was busy entertaining visitors throughout the summer months. In June, I took a beautiful train-ride up north to Madrid to meet some friends, went back to Bilbao for a weekend, moved apartments and counted down the days until my family arrived!
Then, I went to Zahara de los Atunes for a weekend of beautiful beaches and al fresco dining.
July
July was a busy, busy, month of traveling all over Spain and France. After getting over a yucky stomach bug, I traveled (still not 100%) to sweltering Sevilla and caught a plane to Paris!
My week in France consisted of seeing the Jardin de Luxembourg, eating all the French pastries I could get my hands on, going to Versailles and soaking up everything Parisian!
Then, I went to Tarifa, Ronda, Marbella, Granada and Nerja before I packed up the car and road-tripped from Andalucía to País Vasco. Along the way I stopped in Consuegra and saw the famous Don Quijote windmills, took a day-trip to Toledo, stopped in Madrid and finally arrived for a week of enjoying Basque culture.
Once in Basque country, I went pintxo-hopping (txikiteo) in Donostia, sight-seeing in Guernica+Bilbao and drove up and down the curvy Costa Vasca until we got to France, making stops in St. Jean de Luz and Bayonne.
On the way back down south, we stopped for a few hours in Salamanca and made it back down to the Costa del Sol.
Phew!
August
August was a bit more relaxed, spent enjoying every minute with my family. We explored Tarifa and Sevilla together, as well as Vejer de la Frontera, a traditional Andalusian pueblo blanco.
September
Back to Basque Country I went, this time to attend my first-ever Basque wedding! It was a fun night filled with lots of food (9 courses!) drinks, and dancing! 
October
A car-load of friends and I went to Granada for Halloween weekend, exploring the tea rooms in the Moorish quarter and partying until (almost) sunrise!
November
November was a super exciting month for me as I was heading home(!) to celebrate turning 25 and being there for my first Thanksgiving in 2 years. I spent a week in San Francisco before driving up through Northern Cal and Oregon until Seattle.
December
This month brings trips to Bilbao and Madrid for Christmas and ringing in 2012 respectively.
What a beautiful year it's been!
Guest Post: Experience the Holiest of Holies in Seville's Calendar
Today's post has been made possible by firstchoice.co.uk. For a truly unique look into Spanish culture, consider a holiday around the famous Holy Week celebrations that take place in Sevilla each year. I myself have yet to go, but the experience is definitely on my bucket list!
Spain is a country overflowing with warmth, culture and intrigue and it's a shame that many people only get a small sampling of the true taste of Spain whilst on beach holidays there. When it comes to drinking in the heady taste of Seville, however, it's possible to have your cake and eat it too by taking a short ride up from the coast to the city and there's no better time to do this than during Seville's Holy Week.
Semana Santa is one of the most important celebrations in Seville and can trace its origins way back to the 14th century. Celebrated during the Easter week, Holy Week celebrates the resurrection of Christ, but it's also an education in Spanish religious history and a time of great revelry for the Spanish people. During Holy Week floats representing the stages of Christ's life are marched through the streets by members of the Cofradias, the religious associations whose job it is to look after the idols of Christ and the Virgin Mary that are. The Cofradias proceed from their church through the narrow streets of the city towards the Cathedral and crowds of up to one million people can gather to watch them over the eight days of Holy Week.
This procession is not just carried out by one brotherhood – over 60 Cofradias of around 60,000 brothers take part in the proceedings during Holy Week and each has their own style. Some of the groups of brothers march in absolute silence, whilst others are accompanied by brass bands, wind quartets or simple cappella choirs. No matter what their accompaniment, the audience usually hold their peace whilst the idols pass them by.
Holy Week gives tourists an important opportunity to see an event which has been historically significant to a huge proportion of Spain's population and one that continues to be vital to this day. It may not be as lively as many of Spain's other festivals, but what it lacks in vigour it makes up for in poignancy.
The Places That Hooked Me in…
You know that moment when you're in a new place, whether it be for a few hours or a few days and your pulse quickens a bit? When you glance around and your surroundings absolutely grab you?
It may hit you unexpectedly—during an amazing al fresco meal, while strolling out on a balmy night, or watching the sun set. It may overwhelm your senses all at once.
The relationship you can have with a new place is like love; you're left wanting more.
Here are the places that hooked me in, and the moments where it hit me:
Athens, Greece
Climbing up the Acropolis and seeing the spread of this ancient city below me. Stumbling upon a tucked-away street of chic cafes. Indulging in cheesecake on a rooftop overlooking the Acropolis lit-up at night. Gorgeous seaside nightclubs spent laughing and dancing with friends.
Sevilla, Spain
Exploring the winding, narrow streets of Barrio Santa Cruz. Delighting in cold cervezas and the finest jamón. Relaxing alongside the Río Guadalquiver.  Marveling at the tile-work of Plaza España. Taking in the view from the bell tower.

Naxos, Greece
Riding motorbikes through the countryside. Dipping my toes in the Mediterranean. Feasting on saganaki, horiatiki and souvlaki. Celebrating with drinks at happy hour near the beach. Counting the different shades of blue in the ocean.

San Sebastián, Spain
Devouring pintxos in the old part of the city. Walking alongside the bustling waterfront. Window-shopping in the center. Imagining my dream-home overlooking the sea.

Barcelona, Spain
Admiring the quirky architecture of Gaudi. Experiencing the lively nightlife. Soaking up the sunshine. Snapping photos of all of the city's color and action. Sampling food in the local markets.
These are the select few places in the world that stole my heart and still call me back long after I've left. They leave me daydreaming of a return trip, nostalgically thinking in the memories I created there.
Where in the world has captured your heart?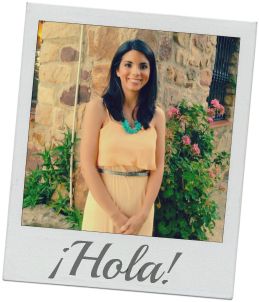 I'm Christine - a 25 year old American expat living la vida Española on the Mediterranean coast in Spain!