Why Expat Life Isn't Exactly An Extended Vacation
There's a huge difference between visiting a place and living there. On vacation, you're in well, vacation mode; everyday is new and exciting, full of exotic sights and interesting people. However, when you stay long enough, the summer fun fades away, the tourists go back home and you're experiencing life as a local.
I moved to Spain with the intention of staying a little more than half a year. To me, this was long enough to get just a taste of being an expatriate, learn some Spanish, travel around Europe and wait out the then-bad job market back in the States. However, my circumstances changed, and I found myself living in Spain, 9 months…12 months…and now? I'm here indefinitely.
Living in Europe was at one time a far-fetched dream that I never imagined happening, and now it's my life. And though I pay bills, cook, clean and go to work just like any other person living here, people still seem to think I'm on some sort of extended vacation or hiatus from the real world. This is about as real as it gets. Yes, I'm living in a country with beautiful beaches, amazing parties and incredible architecture and it never gets old or goes unappreciated. And, visiting any European or North African destination is only a stone's throw away and I take full advantage of this every chance I get. But is my life one big toes-in-the-sand daiquiri-in-hand vacation? Absolutely not.
I am very close to my family and now weekend visits have turned into weekend Skype dates. I can no longer call up my best friends at any time just to chat without it being a planned out matter, with the 9 hours time difference taken into consideration. And everyday I'm in surroundings that, though are more familiar all the time, are ones that I'm not 100% absolutely comfortable in. But am I complaining? No. Do I think people should feel sorry for me? No way. This is the life I've chosen for myself, and with many difficult decisions come a lot of sacrifices.
My point is however, that expat life is not always ideal, and it's definitely not for the weak. This is a whole different ball-game than moving across your own country. Moving across the world tests you daily. There are language barriers, cultural differences and conveniences from back home that don't exist. Despite being in a land I dreamed of living in, my heart aches at the thought of missing more loved ones' birthdays and family Thanksgivings at my parent's house. But being home in the same place I've lived the past 20+ years of my life in isn't so tempting either when all I want to do is stretch my wings and see all of the world I can, and take in this experience that I'm so lucky to have. The best way I can put it is that the grass is greener on the other side in some ways that it's not here, and vice-versa.
While in the midst of writing this, I came across a blog post by Dalene and Pete of Hecktic Travels, (a Canadian couple living as expats on a tropical island) that really struck a chord with me:
"The imprint left behind after a dream tropical vacation is only a tiny snapshot of what living in such a place really would be like.  You've got to live with the bugs, the damage from torrential rains and the severely pot-holed roads to know if it is really for you."
As I'm writing this, the sky is sending down buckets, and the wind is whipping around my apartment for my second winter in a row here. The old men still cat-call me every time I step out of my apartment (ugh!) And on bad days, Spanish still makes my head spin. But I'm still here. I guess that means I've made it.
blog comments powered by

Disqus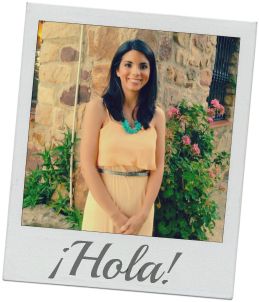 I'm Christine - a 25 year old American expat living la vida Española on the Mediterranean coast in Spain!