Lekeitio: One of the Most Beautiful Places I've Been
Tucked away in the emerald hills of Spain's Basque Country is a cluster of red-roofed buildings set in stark contrast against a teal sea. Lekeitio; a village of around 8,000 during the quieter winter months, and 30,000 when the population explodes in the summertime with Europeans coming to enjoy the beautiful beaches and world-famous Basque cuisine.
Lekeitio is the type of place so beautiful, that return trips still evoke amazement over the brilliant colors present here, the stunning views from the hilltops and the pristine beaches winding around the eastern part of the town.
It is easily one of the most beautiful places I've been.
One of Lekeitio's most important streams of revenue has been fishing. Here is the port and the site of some great pintxos bars.
A back-street in Lekeitio.
The Island of Saint Nicolas (you can walk to it at low tide!) and one of Lekeitio's beaches.
The most historic (and expensive!) house in Lekeitio. Why? Because it was the first to be built here.
A view from the top of Lekeitio's (mini) mountain.
One of the most famous landmarks in Lekeitio; the Santa Maria gothic basilica from the 15th Century.
Apartment buildings near the port.
Fishing boats in the port.
The waves can come crashing through during bouts of bad weather.
I had to find a door to photograph :)
A hike through Lekeitio's hillside.
Are you convinced yet? If you ever find yourself in the North of Spain, be sure to explore outside of Bilbao and San Sebastían. There are so many beautiful towns and villages like Lekeitio waiting to be explored!
Tell me in the comments below: what's the most beautiful place you've traveled to?
Best of Southern Spain Roadtrip
Coming from a country so huge, (the USA) taking a road-trip has never been my idea of a good time. We've all heard of the "Great American Roadtrip" on Route 66, but I've always preferred to hop in a plane and be at my destination in a few hours, rather than pack up the car and be there in a few days. I've roadtripped (yes, I'm making that a word) from Seattle to Mazatlan, México and from Seattle to St. Louis, and though they make for fond memories, the hours spent in the back of a car, eyes glazed over, didn't always make for the most entertaining time.
Alas, I have changed, as I've rediscovered the roadtrip here in Spain, and what can I say? I'm a fan. Living at almost the most southern point of Spain, my unique location puts a wide spread of destinations within my reach, and what would be hours upon hours back home, is much closer over here in a country smaller than the size of Texas.
So what road-trip do I recommend for you; the traveler? I've compiled my favorite itinerary, using Málaga as a base.
Day 1
Málaga—>Nerja
As Andalucía's main point of entry, Málaga makes for a great base. Though Málaga offers a few sites to visitors, such as the 11th Century Alcazaba, the Castle of Gibralfaro, Calle Larios in winter and Constitution Square, if you do come, plan it around the grand Feria de Málaga in mid-August or during Semana Santa to get an authentic taste of local culture. If not, explore the sites early, and head east up the coast to the beautiful beach-town of Nerja to soak up the sun, and explore the famous caves.
Days 2-3
Nerja—>Granada
I've made it no secret that Granada is one of my favorite cities. Take at least two days to see La Alhambra, El Albayzín (The old Moorish quarter), stroll through the center, take in the nightlife and enjoy free tapas on Calle Navas.

Days 4-5
Granada—>Córdoba
From Granada, head north to Córdoba and spend a couple of days exploring the UNESCO World Heritage Old Town, the Great Mosque, the many parks and if you're around in May, the Feria de Patios, where many residents deck our their patios in gorgeous floral arrangements.

Days 5-6
Cordóba—>Sevilla
Considered one of the greatest cities in Spain, chances are, Sevilla will capture your heart. Don't miss the Cathedral, Barrio Santa Cruz, Alcázar, and Plaza España.

Day 7
Sevilla—>Vejer de la Frontera—>Arcos de la Frontera—> Ronda
No tour of southern Spain would be complete without a stop in one of the famous pueblo blancos (white villages). From Sevilla, make stops in some of the most beloved: Vejer de la Frontera perched on a hill, Arcos de la Frontera atop a sandstone ridge, and lastly, Ronda located deep in the mountains above El Tajo canyon.
Day 8
Ronda—>Malaga
Use your last day to wander around Ronda, and head back to Málaga, or continue west to Gibraltar, Tarifa and up the Costa de La Luz for unspoilt stretches of Atlantic beaches.
Many thanks to Brit Car Hire for making today's post possible.
To rent a car in Spain for your next road-trip, visit Brit Car Hire. They offer rental cars in Alicante, Málaga, Mallorca, Barcelona, etc. They only rent right-hand driven cars.
What You Think You Know About Spain is Completely Wrong.
DISCLAIMER: What I've written below is a personal account, and rather than to be assumed as fact, was meant to be a fun way of debunking popular myths for my readers intending to travel to Spain. So before anyone gets all hot and bothered, please remember that I am well aware there are exceptions to everything; some Spaniards do indeed like sangria after all!
Probably. But have no fear, I'm here to dispel some rather common misconceptions about Spain, and provide some insight along the way!
The drink of choice is sangría.
Correction: The tourist's drink of choice is sangría. And nothing is wrong with that, except it will pin you automatically as a tourist, and may result in you being charged more. Most Spaniards sticks to wine, since Spanish wine is cheap AND delicious, beer, and simple mixed drinks; like rum and coke, as cocktails aren't as popular here as in other places. Some of my favorite drinks I've discovered in Spain? Kalimotxos from the Basque Country, Cava from Catalunya and Claras/Tinto de Verano from Andalucía.
Bullfighting is the national sport.
Correction: Fútbol is the national sport, and even then, not everyone is a fervid, bleed-your-team's colors fan; or a fan at all even. 
Everyone dances flamenco.
Correction: Flamenco is the collective word for the guitars, singing, dancing and clapping that make up Flamenco. One dancing style is actually called sevillanas, as it originates from Sevilla. And Flamenco is really only celebrated in Madrid and in Andalucía.
Spanish food is spicy.
Correction: Spanish food is hearty. Spanish food is uncomplicated. But it is not in the slightest spicy, like Mexican food. In fact, there is almost no relation between Spanish and Mexican cuisine minus dulce de leche for dessert and a heavy use of beans in many dishes. Probably the spiciest things you can order in Spain are patatas bravas pimientos de padrón, spicy chorizo, or guindilla peppers.
Tapas/Pintxos are a type of food.
Correction: Tapas describe the small portions of food, not the type of food. Tapas and pintxos are a way of eating, not food in itself. The word "tapa" comes from the Spanish word, "tapar", which means "to cover".  Way back when, bartenders would place a piece of bread with ham or other goodies on top to keep flies out of drinks. Now tapas are known as the small bar snacks that are a pillar of Spanish cuisine. Pintxos are their Basque counterparts, varying in size (slightly larger) and are almost always accompanied by a slice of bread underneath, whereas tapas are normally small plates.
Since Spain is a Catholic country, the people are devout Catholics.
Correction: Ha! Or more appropriately: ¡JA! Though the elaborate, serious ceremonies of Semana Santa may lead you to believe differently, the majority of the younger generation in Spain aren't highly religious. While most had a Catholic upbringing, including the all-important first communion, and if married, a Catholic ceremony in The Church, you won't see anyone younger than 60 in church most of the time. But of course, there are exceptions, not to mention the people of other religions living in Spain. Spain is also quite liberal for being a traditionally Catholic country, as abortion and gay marriage are both legal here, however Roman Catholicism no longer has official status by law.
Spanish people are very patriotic. ¡Vivá España!
Correction: Have you ever watched a F.C. Barcelona game on TV and seen someone in the crowd holding a "Catalunya is not Spain" sign? Well, I have. Spain is a wonderfully diverse country, featuring nearly 20 different provinces with unique food, cultures and even languages. Some provinces, like País Vasco and Catalunya oftentimes feel more strongly for their respective cultures than for the Spanish culture as a whole, and practice their region's traditions and may even choose to speak the region's language over Spanish. Read up on Franco's dictatorship, and you'll understand clearly why they're so proud of their regional culture!
They only speak Spanish in Spain.
Correction: Spanish is the official language of Spain, but Euskera of Basque Country, Catalan/Valenciana, and Galician are co-official languages of Spain. If that wasn't enough already, Asuturian and Aragonese are recognized as languages by Spain, and Leonese, Extremaduran and Fala are unofficial languages. Though most of the co-official, recognized and unofficial languages listed are more linguistically close to Spanish, Euskera, or Basque from the Basque Country in the north has no linguistic ties to any European language. For this reason, it is believed the Basques are the original Europeans, and though their language was threatened during the Franco dictatorship, has survived the test of time.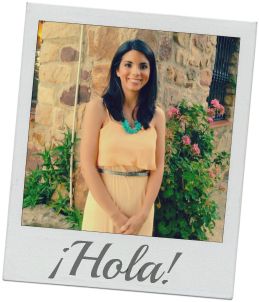 I'm Christine - a 25 year old American expat living la vida Española on the Mediterranean coast in Spain!